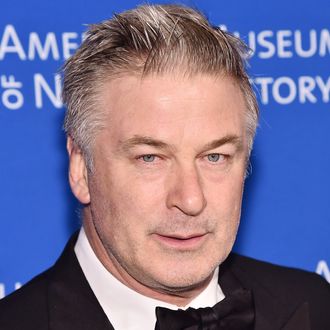 Photo: Michael Loccisano/Getty Images
Kathy Griffin drew sharp criticism from both sides of the political aisle this week when she unveiled a photograph of herself, taken by celebrity photographer Tyler Shields, holding a decapitated head of President Donald Trump. Although some public figures were quick to defend Griffin's choice in partaking in an unconventional photo shoot, Trump himself unsurprisingly expressed disgust at the photo, tweeting that she should be "ashamed of herself." (Griffin apologized for the photo shortly thereafter, and also explained that the backlash she received was sexist.) Now, noted adversary of Trump, Alec Baldwin, is also coming to the comedian's defense, drawing from personal experience as to why he's sympathetic to her experience.
"Dear Kathy Griffin, Kathy … baby … I've been there. The whole Henry Hyde thing with Conan, where we bring out an oxygen mask at the end? A joke. That's what I thought. That's what we intended. No one walked out of the studio and said, 'No! We're serious!' No one," Baldwin tweeted out on Friday evening. "But all your gutless, weasels in the GOP insisted that I actually threatened Hyde. They played the victim beautifully. Kathy … fuck them. Fuck them all. No one believes you meant to threaten Trump. Trump is such a senile idiot, all he has is Twitter fights. Ignore him. Like the leaders of all the other countries in the world. Ignore him."
In the aftermath of Griffin's photo, CNN announced it had terminated her contract with the network's popular New Year's Eve show, which she has been co-hosting with Anderson Cooper for the past ten years.