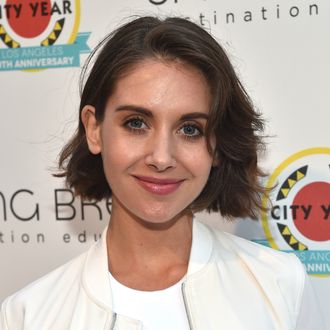 Photo: Alberto E. Rodriguez/Getty Images
After a screening of her upcoming Netflix wrestling series GLOW, Alison Brie offered her thoughts on whether or not the experience of being a female performer going out for roles has improved at all in the last 30 years. "It has not changed that much," Brie concluded. "The audition process has not changed that much." In addition to "begging" for three-line roles, the former Community star grimly recalled a skin-crawling Entourage audition. "Early in my career, I auditioned for three lines on an episode of Entourage that I had to go on in a bikini!" she revealed. "Or like shorts and the tiniest shorts. And they were like, 'Okay, can you take your top off now?'" Brie never appeared on the HBO series. A quick reminder: If you're acting worse than the fictional character Johnny Drama or, god help you, Turtle, it is time for you to examine your entire terrible life.
Brie later clarified on Twitter that she was wearing a bikini top under her top during the audition and so was not "totally topless." The story remains totally grim.