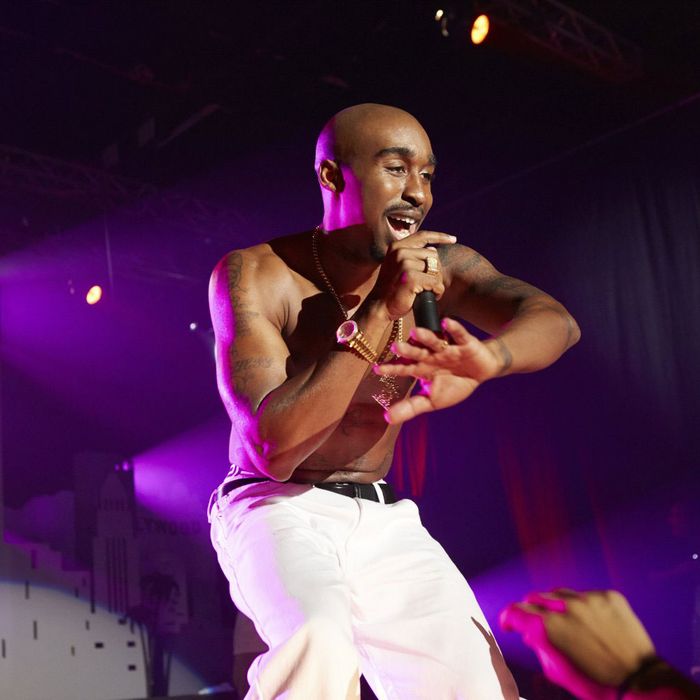 Demetrius Shipp Jr. in All Eyez on Me.
Photo: All Eyez On Me/Summit Entertainment
After his sentencing for a sexual-assault charge in 1995, Tupac Shakur, according to courtroom accounts, turned to directly address the judge that had been overseeing his case for the past three months. "You never paid attention to me. You never looked me in the eyes," he said; the judge had drawn his conclusions about the rapper from his lyrics (and Dan Quayle's opinion of them), and little from being in the same room as the man himself. This moment is one of the best scenes in the new Shakur biopic All Eyez on Me, and yet, it carries some unfortunate irony. All Eyez on Me is rarely more than a faithful adaptation of the rapper's Wikipedia entry, so fixated on name-checking every footnote of Shakur's public life that there is no space to explore the experience of the man himself.
The troubled production, which went through a series of directors including Antoine Fuqua and John Singleton, is directed by Benny Boom, a music-video director with an extensive résumé but, it appears, less assurance when it comes to longer narratives and character work. The first half of the film is framed by that bane of all biopics, the interview with a journalist (Hill Harper). We meet Tupac's beloved mother, Afeni Shakur (a warm and ferocious Danai Gurira), and see his high-school days doing Shakespeare with Jada Pinkett (Kat Graham). But Boom never lingers on a single beat long enough to establish a rhythm; just as things feel as though they're warming up, we cut back to the present. The film doesn't try to take us on a journey, taking for granted that we are inherently interested in anything that happens to Shakur (played by Demetrius Shipp Jr.) onscreen.
Which isn't an ungrounded assumption: The cult of Tupac still runs strong, strong enough that Boom can lay some gospel music over the image of his Christlike body after his fatal 1996 shooting in Las Vegas and it only feels a little hyperbolic. The director doesn't necessarily have a responsibility to sell non-acolytes on Shakur's legacy, but the film doesn't do much to lift up the already initiated, either. The film doesn't seem to know how to make Tupac's songs, already rich in narrative, cinematic. It's filled wall-to-wall with a slew of greatest hits — "Brenda's Got a Baby," "So Many Tears," "I Get Around" — but they don't do much other than mark time. This is the kind of film where "California Love" plays over some stock footage of palm trees, after which we pan up to a Billboard chart, and Suge Knight (Dominic L. Santana) declares "All Eyez On Me got the world shook!"
Accordingly, most of the actors turn in TV-movie performances. Those playing more recognizable roles — including Jarrett Ellis as Snoop Dogg and Harold House Moore as Dr. Dre — are never shown in close-up, and their faces always seem to be obscured by something. But Gurira and Harper are grounding presences, and Gurira especially brings such incisive power to the role of Afeni, a Black Panther leader turned drug addict turned celebrity mom, that she sometimes threatens to overshadow the leading man.
As the film reaches the conclusion you know is coming, it turns into a hypermeticulous, JFK-like play-by-play that is more educational than dread inducing. It diplomatically refuses to come to any conclusions about Shakur's killer, and ends within minutes after the shots are fired, having reached the last item on its to-do list. And yet, my mind was still in that courtroom scene — a glimpse of the kind of film this subject deserved, highlighting Shakur's capacity for heartbreaking eloquence and honesty, made only more complicated by the sordid business he kept winding up in all the way up to his death. At the very least, Tupac deserved a storyteller as good as himself. It's a shame he didn't get one.