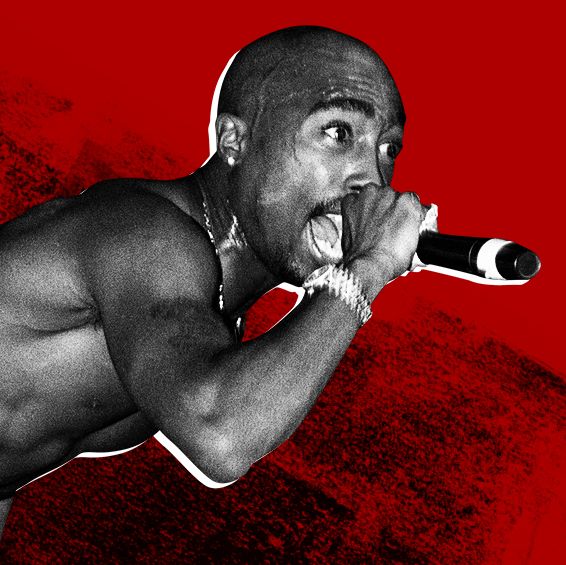 Demetrius Shipp Jr., and Tupac Shakur.
Photo: Vulture and Photo by Getty Images and Quantrell Colbert
L.T. Hutton woke to the sound of Tupac Shakur cooking breakfast. It was 1995, Shakur had just been released from prison, and Hutton, then a young producer for Death Row Records, was living at Snoop Dogg's mansion in the San Gabriel Valley. Despite being signed to the same label, Hutton had yet to speak at length with Shakur, who was now standing in front of him, shirtless, frying up plates of sausage and bacon. Hutton says he walked over, introduced himself, and said, "Brother, you just got out of jail, you went through a struggle, the record was dope. But who is gonna clean this kitchen up?"
Twenty-two years later, Hutton is sitting in a seventh-floor conference room in Beverly Hills, chuckling as he retells the story. At first, Hutton says, Shakur was incredulous about the dish-cleaning request. "I said [to him], 'Let me explain something: You're not just gonna check me. You messed the kitchen up.' He was like, 'Aww, I like you, I like your spirit.'"
Stories like these have been rattling around Hutton's mind as he puts the finishing touches on the long-gestating Tupac Shakur biopic All Eyez on Me. When it hits theaters on June 16, what would have been the rapper's 46th birthday, it will mark the end of a complicated journey, one fraught with two multimillion-dollar lawsuits, a rotating door of writers and directors, a noncommittal estate, and a public thrashing from an Oscar-nominated filmmaker.
In the meantime, Hutton, the film's lead producer, has had to do it all: beat back critics, allay fan concerns, and dip into his own pockets to finance the production. "I put it all on the line: house, cars," he tells Vulture. "This film damn near took me under. Like Hollywood Shuffle for Robert Townsend, I leveraged everything for this movie. I call it a good investment."
"This project was not easy to make," says All Eyez on Me director Benny Boom. "The fans expect a certain thing, the haters want to bring you down — and L.T. has been able to work his way through it."
Adds Hutton, "I know for a fact that the fight that Tupac wanted me to fight, I fought it. And he's looking down and he's proud. The world will see on June 16 what I was doing and what I was fighting for."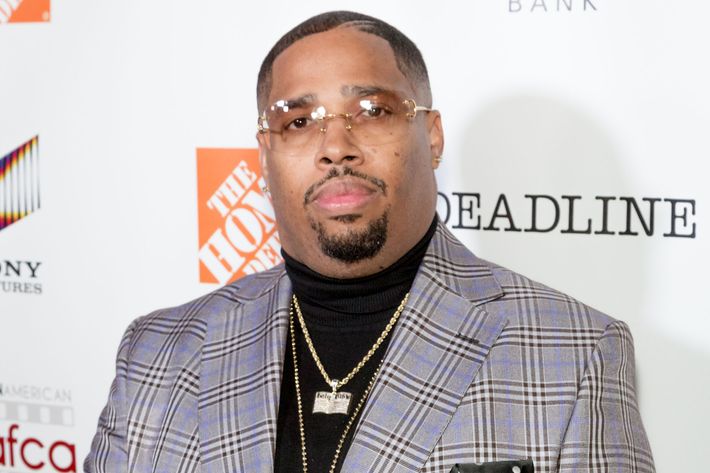 The story of All Eyez on Me begins in 1997, one year after Shakur's murder on the Las Vegas strip. The rapper's mother, Afeni, and her imprint, Amaru Entertainment, which controls the rights to Tupac's music and image, started making the rounds to studios to gauge interest in a biopic. But they soon tabled the idea in favor of a documentary, which became the Oscar-nominated Tupac: Resurrection. By 2005, things picked up again, with studios like New Line, MTV Films, and the Weinstein Company lining up to secure the rights to Shakur's story. In October 2008, Morgan Creek, the studio behind Ace Ventura, was added to the mix, with Hutton facilitating. The parties spent the rest of the year volleying back and forth over a potential agreement. Things got ugly fast: In February 2009, Morgan Creek sued Amaru for breach of contract. Amaru claimed that there wasn't even a contract to begin with and countersued for $10 million, accusing Morgan Creek CEO James Robinson of trying to strong-arm a deal for the rights, then sabotaging the project when the company looked to set it up elsewhere. The suit also alleged that unnamed Morgan Creek executives were complaining about the project being "messed up by a bunch of women" — a reference to Afeni Shakur and her lawyer, Dina LaPolt.
Yet two years later, the standoff ended and both suits were withdrawn, as Amaru and Morgan Creek decided to keep working together, despite the friction. Hutton is vague on the particulars of how the feud was resolved, only to say that he and Afeni came to an understanding. "You never heard anything from me or her on it because we decided in the agreement that there's nothing to talk about; we got a deal and we're gonna make the best of it," he says. (Afeni Shakur died in 2016, and the Tupac Shakur estate declined to comment on the original lawsuit.)
Settlement aside, things were still in flux. The project was shuffling through directors, including Antoine Fuqua and Carl Franklin. Oscar-nominated Nixon screenwriters Christopher Wilkinson and Stephen Rivele were brought on, then dropped less than a year later.
Then there was John Singleton, whose involvement was particularly acrimonious. Singleton had directed Shakur in Poetic Justice, which should have made him a perfect choice for All Eyez on Me. But a year after joining the project, he was gone too — and on his way out the door, decided to throw a few bombs Hutton's way. "The reason I am not making this picture is because the people involved aren't really respectful of the legacy of Tupac Amaru Shakur … How you gonna make a movie about a man when you suing his mother to get the rights to tell his story?!" Singleton wrote on his Instagram. He promised to make a rival Tupac film with Straight Outta Compton actor Marcc Rose, and later told HipHopDX that "some people don't like to work with a black man in Hollywood who has an opinion. I knew they weren't going to make a good movie at all and they didn't."
It was a damning indictment, and Hutton would later respond on a radio interview, stating that Singleton didn't quit — he was let go. Speaking with Vulture, Hutton added: "John is the one who really started the nonsense. Because if I was to share to you what John Singleton wanted to do and what our disagreement was, he would probably be done in Hollywood forever."
(Singleton did not respond to multiple interview requests.)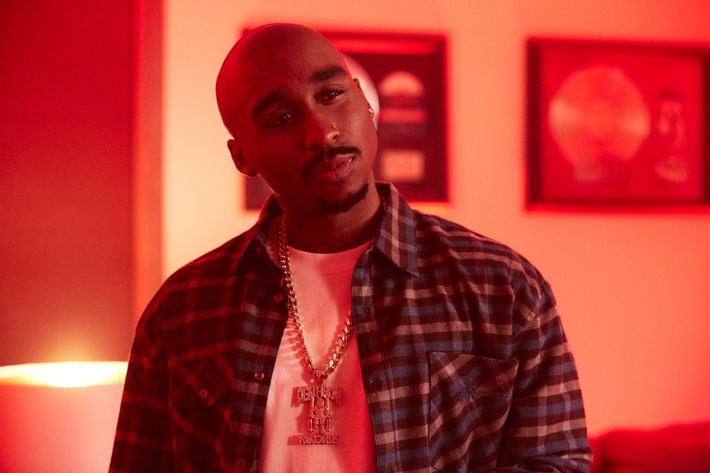 Biopics are traps. Attempt to shoehorn in every piece of information, and the film gets bloated and overwrought; take liberties with what actually happened and you'll have pitchfork-wielding fans at your doorstep. Hutton says he attacked the project by interviewing and reinterviewing people in Shakur's life and compiling that material, along with everything Shakur had said publicly, into a "Tupac bible."
Even with Hutton's due diligence, though, the film looked like it was heading to development hell after Singleton's exit, particularly when production company Emmett Furla Oasis Films filed a $10 million lawsuit against Morgan Creek in October 2015 over a dispute regarding lead actor selection and production schedule. (The suit is still ongoing; both parties declined to comment.)
But by the end of the year, things were looking up. Newcomer Demetrius Shipp Jr. — a dead ringer for Tupac, and whose father worked with Hutton at Death Row and produced the Pac-as-Makaveli track "Toss It Up" — was cast as the film's lead, and music-video vet Benny Boom signed on to direct.
"From the moment I took the job, there's been chatter one way or the other about the movie, about the timing of the movie, about who's doing the movie, who's playing Pac, who's directing it, who's producing it," says Boom. "I just think that that relates to the passion that people have for this man and what he leaves behind."
Shooting finally began in December 2015, and wrapped up in Las Vegas on April 2016, on the corner of Flamingo and Koval, where Shakur had been killed 20 years earlier. It was a moment of vindication for the cast, crew, and especially Hutton, who posted a triumphant message to his Instagram: "HARD WORK PASSION, DETERMINATION AND PERSISTENCE !!! GOT IT DONE !!!"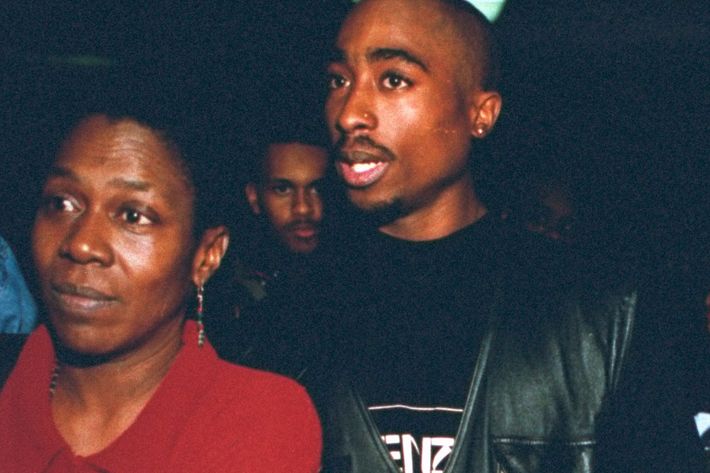 Afeni Shakur was fiercely protective of her son's legacy. A former Black Panther, activist, and subject of one of Tupac's most famous songs ("Dear Mama"), she had wanted to be in charge of creative decisions for a biopic from the very beginning. But, since Afeni's death, Hutton and others working on All Eyez on Me have been unclear about whether the estate is still involved in the project — or whether Afeni will be credited as a producer, as was originally stipulated in the agreement.
"She is contractually in there as a producer, so if I decide to not [put her name in the credits], that would be to my discretion," says Hutton. However, a source close to the estate confirmed to Vulture that the estate has requested Afeni Shakur's name be removed from the film (which may tell you all you need to know about how the estate feels about the project). When I screened the film in May, Afeni's name was nowhere to be found.
Hutton, though, is adamant that it's not Afeni's fault that things with the estate have gone sideways. He says he had Afeni's blessing from the start, and even takes out his phone to show off PDFs of the contract she signed back in 2011. "There is one signature, one contract for a movie, and that's All Eyez on Me," he says. "There's no way I could have done anything wrong and get Ms. Shakur to sign a piece of paper."
Hutton then points to all the people in Shakur's life who have approved of the film. Folks like Snoop, E.D.I. Mean of the Outlawz, and Digital Underground's Money-B and Shock G. "Anybody who doesn't want to see this film do well, they have larceny in their heart," says Hutton. "People who really loved this guy, would not allow me to do a [movie] and not tell me, 'Hey, that's some bullshit.' These people are in the movie, for Christ's sake."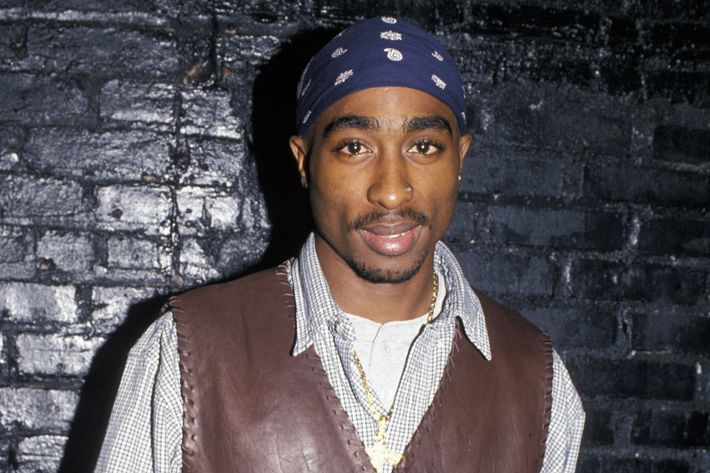 Even in death, the world has trouble reckoning with a figure like Shakur, and the difficulties of getting a film about his story into production speaks not only to the passion fans still have toward him, but Hollywood's continued reticence on producing big-budget stories about black figures — particularly on one that mainstream America once branded as a menace to society. Here Hutton points not just to the lily-white corners of the industry, but to black investors who were initially apprehensive about financing All Eyez on Me in the years before Notorious and Straight Outta Compton were released.
"I went to multiple black people who have a ton of money," says Hutton. "They didn't touch it. They love it now and give it kudos or whatever, but I still look at them and say, 'You could have made this.'" Leila Steinberg, Shakur's longtime mentor, says the rapper still would have been proud of the work that's been done around the movie. "I think Tupac would have loved to have a black producer and a black director" working on his film, she says. "After everything, Tupac wanted … black and brown people to have a seat at the table."
Adds Hutton, "Most people have thanked me for bringing this picture to light. Anybody who wants to hurt this movie, tell me why. It's not going to hurt the billionaire at Morgan Creek … it's going to hurt [Tupac's] legacy, and it's going to hurt me. What do you get out of that? You going to take out one of the only black producers in Hollywood who is fighting to get our stories out there? But you won't say anything about [the quality of the] Lifetime [Aaliyah and TLC biopics]. You won't say anything about Mick Jagger [producing] the James Brown movie [Get On Up]."
But Hutton says the days of having to defend his motives will soon be over. After 20 years of working on All Eyez on Me, he's almost at the finish line. It's not about him, he stresses. It's about Tupac — the poet, the rapper, the savior, the savant, looking to teach the world about the struggles of growing up black in America.
"I am just so excited for the world to see what came together," says Hutton. "And I just don't want anybody to fuck with that."