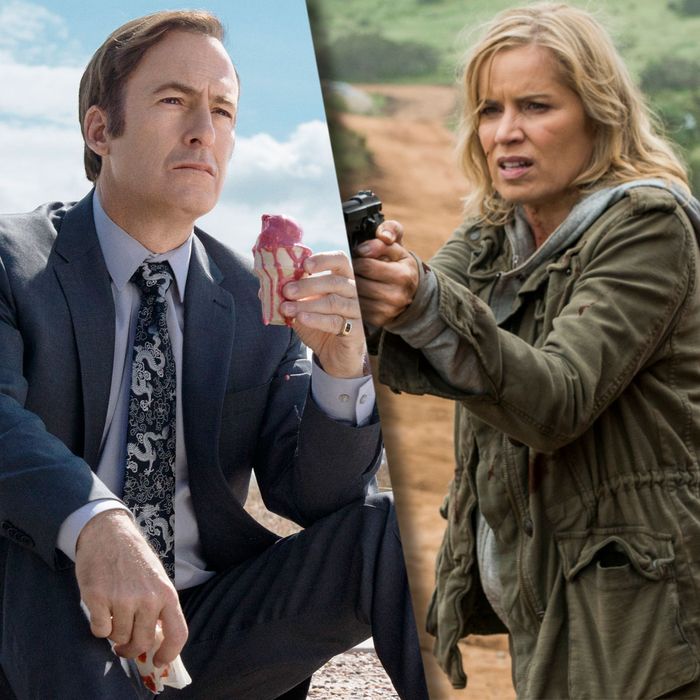 Better Call Saul
and
Fear the Walking Dead
.
Photo: AMC
AMC is giving some Fear the Walking Dead fans who fear long commercial breaks more than zombies a new way to watch the hit drama, along with all of the cable network's other offerings. Starting today, Comcast cable customers with access to the company's XFinity TV platform will have the option of paying $5 more per month to access commercial-free, on-demand versions of various AMC series and movie offerings. Most notably, the new premium tier, being marketed as AMC Premiere, will let subscribers watch new episodes of series such as Better Call Saul or Preacher without ads at the exact same time those shows are being telecast with commercials on the basic AMC channel. While most people probably won't want to shell out $60 per year for a service they're already paying for as part of their cable subscription, AMC execs are betting their shows have enough superfans to make this experiment worth a try. They're probably right.
While it's now become common for cable and even broadcast networks to offer viewers the ability to purchase their content directly — think HBO Now or CBS All Access — it's important to note AMC Premiere doesn't quite fit into that booming category of so-called "over-the-top" TV offerings. In fact, it's just the opposite. Instead of catering to cord-cutters, AMC Premiere is designed to keep consumers inside the big cable womb (a.k.a "the bundle") by offering an upscale experience available only through your friendly neighborhood cable conglomerate. While Comcast is AMC's cable partner at launch, it's expected other TV providers (Spectrum, DirecTV, etc.) will eventually start selling AMC Premiere within the next few months or years. But sources inside AMC make it clear there are no current plans to offer the new premium tier directly to consumers, the way HBO Now is sold. That's smart, because AMC Premiere isn't the sort of soup-to-nuts experience as an HBO Now: You won't be able to watch every episode of Breaking Bad, Mad Men, or many other AMC shows if you subscribe to AMC Premiere, nor will you get on-demand access to the dozens of movies AMC telecasts each month on its linear channel.
Instead, the network is launching AMC Premiere for the type of customer who pays $3 to download an episode of The Walking Dead on iTunes in order to avoid ads, or for a die-hard Saul fan who watches the show in real time when it airs every Monday night, but really, really hates the endless number of Acura ads in every episode. (In case you're wondering, yes, AMC Premiere customers who watch the live, ad-free version of shows will get to the ending of each episode approximately 20 minutes before those watching on the linear AMC. Twitter's spoiler problem just got a little bit worse.) AMC Premiere will cater to fans in other ways, too, serving up bonus content not immediately available elsewhere (deleted scenes, cast interviews, etc.) and a monthly selection of feature films "curated" to correlate with shows currently airing on AMC. At launch, for example, AMC Premiere will let subscribers stream all of the From Dusk to Dawn movies and Bram Stoker's Dracula because they're thematically similar to the network's Preacher, which just started its second season.
Given the already high cost of cable packages, not to mention the extra money consumers are spending on services such as Hulu and Netflix, it's hard to see millions of folks rushing to give AMC and Comcast even more money for AMC Premiere. But much the same way some movie and music fans are willing to pay a premium for special Fathom Events screenings or Gold Circle concert tickets, it's not completely daft to think some TV fans will want a VIP experience for their favorite shows — particularly since one of those shows is The Walking Dead. Plus, for now, AMC Premiere offers AMC (and cable companies) a low-risk way to explore a potential new revenue stream. Remember, when CBS launched its CBS All Access service, the Eye was mocked for asking folks to pay for something they could get for free over the air, and which at the time offered very little in original content (beyond Big Brother livestreams). A few years later, All Access isn't a runaway success, but it does boast 1.5 million paying subscribers, offers an ad-free version, and has started making its own shows like The Good Wife spinoff, The Good Fight. Similarly, it's easy to imagine AMC eventually deciding to offer AMC Premiere subscribers the chance to watch the first two episodes of Better Call Saul before everyone else, or even dropping every episode of a new show at once. Audiences may ultimately decide to say no thanks to these "upgraded" experiences, but for old-school networks trying to adapt to a rapidly evolving media universe, efforts such as AMC Premiere may prove essential to their long-term survival.