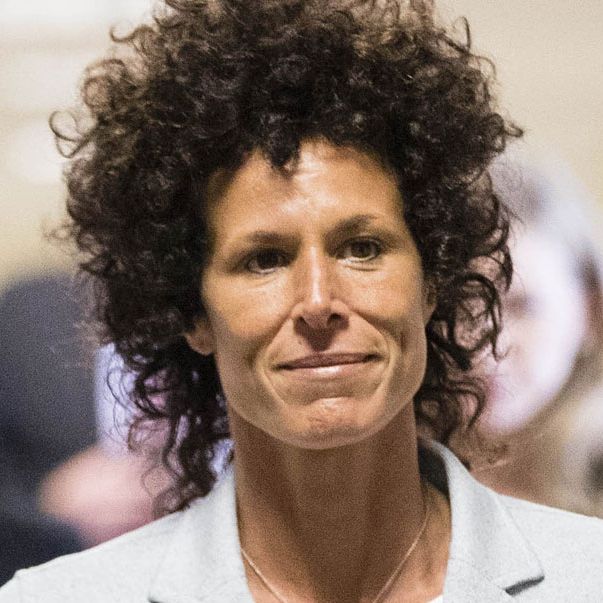 Constand arriving at court on Tuesday.
Photo: MATT ROURKE/AFP/Getty Images
Andrea Constand, the woman at the center of the only criminal trial brought against Bill Cosby, has publicly testified for the first time that Cosby drugged and sexually assaulted her in 2004. On Tuesday, the second day of the sexual-assault trial, Constand took the stand to reiterate in detail the statement she gave police in 2005 of the sexual assault she says took place in 2004 at Cosby's Elkins Park, Pennsylvania, mansion. As Constand previously told police, she said she was invited to Cosby's residence where he gave her three pills that he told her were herbal to help her "relax" and that they would be her "friends."
"I said, 'I trust you.' I took the pills and I swallowed them down," she told the court. Shortly after, Constand remembers feeling "frozen," slurring her words, and experiencing blurred vision. "I was panicking a little bit but I knew I couldn't really get up," she said. Constand said she doesn't remember losing consciousness but was then "jolted awake" by the alleged assault, which she said involved "feeling his hand inside my vagina" and "feeling him take my hand and place it on his penis." Constand said she was physically incapacitated at the time of the alleged assault: "I wasn't able to fight him away. I wanted it to stop." Afterward, Constand said she felt "humiliated and confused" and "just wanted to go home," but doesn't remember the details of the morning after the alleged assault before she left Cosby's home.

Constand, 44, had been an employee of Temple University's athletics department at the time, which is how she said she met Cosby, in 2001. (Cosby was on his alma mater's Board of Trustees, and Constand described him in court as "a mentor.") In 2005, Constand filed a civil lawsuit against Cosby over the assault — after a failed first criminal investigation — and settled. Under the terms of that settlement, Constand was unable to speak publicly about the alleged assault until her courtroom testimony on Tuesday. Constand told the jury that, after the alleged assault, she had several phone conversations with Cosby and met once in person to find out what pills he gave her. "But I realized he was not going to tell me," she said. Instead, she said he responded, "I thought you had an orgasm, didn't you?" She testified that she told him she did not. Constand also testified that, after leaving Temple following the alleged assault and moving back to Canada, she did attend one of Cosby's comedy shows there with her parents. "I did not have the courage at the time to tell my family," she said. "So I just went along with it." According to reports, Cosby watched Constand's testimony with his "head in his hands," shook his head, looked "glum," and "rolled his eyes."

On Monday, the only other accuser allowed to testify at the trial said that Cosby drugged and sexually assaulted her in 1996; on Tuesday, her mother as well as a former lawyer corroborated the woman's story in their testimonies. Constand's cross-examination is expected to happen either Tuesday or Wednesday.