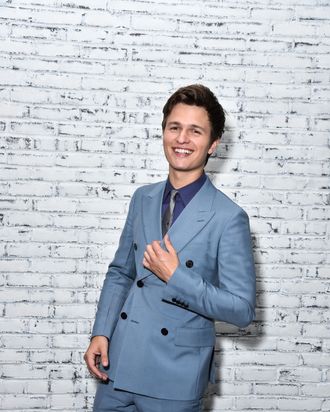 Ansel Elgort.
Photo: Jared Siskin/Patrick McMullan via Getty Image
In the new film Baby Driver, Ansel Elgort plays the titular Baby, a getaway car driver who is very good at driving very fast. (Never has anyone, or any movie, made a four-door sedan look so good.) Baby can make cop cars crash into each other, knows how to run a red without a scrape, and in a pinch, steal a car — with an actual baby onboard — without anyone getting hurt.
As it turns out, in real life Elgort is also a bit of a crazy man behind the wheel. TriStar gave him the red Subaru WRX he drives in the film. Now, he likes to do the hand-break 90-degree turn into his parent's house in Southampton.
"I did so many stunt lessons and training and all that kind of stuff. I really got a chance to become a better driver," Elgort proudly told Vulture Monday night at a screening of Baby Driver hosted by the Cinema Society and Avion.
"On an empty road, I'll do some of the tricks that I learned. I'm pretty good at the tricks. I can do a J–turn. I can do a 180-degree turn, I can do the 90 power-out. That is the cool one."
And what song does he listen to while he's pulling off the stunts, we asked? "Something calming," he says. "I try to stay focused and relaxed."