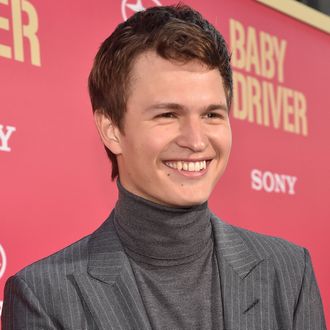 Ansel Elgort.
Photo: Alberto E. Rodriguez/Getty Images
Much has been made of the music in Edgar Wright's Baby Driver. But that film's star Ansel Elgort — er, DJ Ansolo — is a musician in his own right: He even has Frank Ocean's cosign. "Some people go in their trailer and they work out or watch movies or read. I make music in my trailer," Elgort told Variety. "The last three days I've been in L.A. doing interviews all day, but then I go into the music studio and from 7 to 3 a.m. I'm making music."
When Variety asked Elgort what's next for him — i.e., is there an Elgort-starring musical on the horizon — he coyly suggested there is. "I already have an idea for a movie where I'd be able to sing in it," he said. "Especially after working with Edgar [Wright], I'd like to write and direct as well." So, in the near future we're ostensibly getting an EDM musical, a La La Land sequel (what if he's Emma Stone's baby?), or he'll star in the Dear Evan Hansen film adaptation.