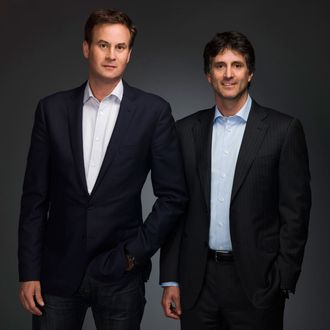 Zack Van Amburg and Jamie Erlicht.
Photo: Sony Pictures TV
Apple has surveyed the vast landscape of peak TV and decided that simply not enough of it is coming from Apple. Variety reports that the tech company has hired former Sony Pictures TV presidents Zack Van Amburg and Jamie Erlicht to run its video programming. What exactly Van Amburg and Erlicht, who oversaw the production of TV series like The Blacklist, Breaking Bad, and Better Call Saul, will do at Apple isn't clear, and is probably mutable, at the moment. But their hiring signals that the tech company, which is currently making the Shark Tank–like app-competition series Planet of the Apps and the "Carpool Karaoke"–like Carpool Karaoke for Apple Music, really wants to make more of its own content. Expect the streaming wars to get a lot more exciting — or at least even more flush with Silicon Valley money.