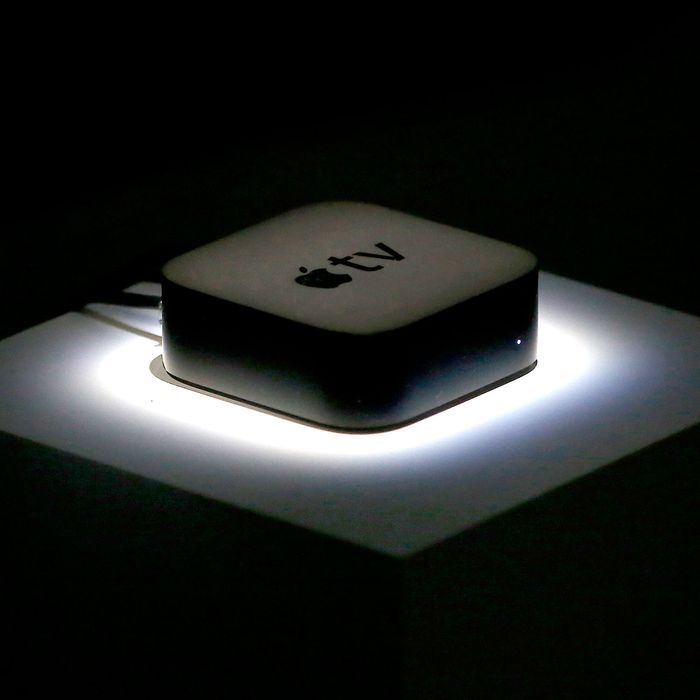 In the latest sign that the small-screen gold rush is far from over, on Friday Apple hired veteran Sony Pictures TV executives Zack Van Amburg and Jamie Erlicht for newly created positions heading up video programming for the Cupertino-based company. Staying true to form, the notoriously secretive Apple offered few details about exactly what its new execs would be doing, or exactly how broad the scope of their mission would be. But Eddy Cue, who runs all of Apple's content stores, issued a statement that suggests Erlicht and Van Amburg weren't recruited to come up with (relatively) small-ball fare like Planet of the Apps or even Carpool Karaoke. "We have exciting plans for customers … there is much more to come," Cue teased. Translation: The Apple phase of Peak TV has arrived. Maybe.
For years, Hollywood's small-screen establishment has been wondering if and when Apple would use its considerable weight to disrupt the TV business. The speculation has been ongoing since 2005, when Apple first negotiated the right to sell TV episodes directly to consumers via iTunes. Hard to believe now, but the idea of letting audiences buy a TV show the day after it aired was once super controversial in TV circles. When he was running NBC, current CNN chief Jeff Zucker famously fretted that Apple's advances (and the rise of streaming) could result in the business "trading analog dollars for digital pennies." It turned out, Apple wasn't the threat many expected back in the mid-aughts.
Sure, every so often one of the Hollywood or Silicon Valley trades would publish a gossipy piece predicting that Apple was about to introduce a new kind of TV set, or replace cable companies with its own live-TV service, or start making a full slate of original series. But as Apple pondered … and pondered … the real disrupter ended up being Netflix, which took advantage of Apple's TV Hamlet act to single-handedly shake up the business and turn digital distribution into the massive force it is today. Indeed, 12 years after Disney CEO Robert Iger joined Steve Jobs onstage at the Apple event introducing the video iPod, Apple is arguably a less potent force in TV now than it was back in 2005, when downloading last night's episode of Lost seemed like the Coolest Thing Ever. And it's not just Netflix that pushed past Apple in TV: Rival Amazon has carved out a nice niche for itself in the premium-TV space, while the same conglomerates that once hesitated to put their shows on iTunes now jointly own the increasingly ambitious Hulu. To be fair, Apple has still played a role in pushing forward the decline of linear TV: Increasingly powerful iterations of the iPod, which begat the iPhone and the iPad, helped bring streaming to the masses. But unlike Apple's transformative role in blowing up the music industry, so far it has essentially been a bit player in the 21st-century TV revolution.
The hiring of Van Amburg and Erlicht might change all that. The duo gives Apple a key ingredient missing from the company's past TV efforts, namely a direct pipeline to Hollywood's creative community. Cue himself is hardly an outsider to the business anymore, having spent the better part of a decade schmoozing with the likes of Iger and every other major network and studio chief. But he's never put together a hit TV show the way Erlicht and Van Amburg have done with successes such as Breaking Bad, The Goldbergs, and Shark Tank. The duo knows every talent agent in Hollywood and have deep relationships with countless writers and directors. If Apple wants to go big in TV, and do more than just dangle a few reality shows in front of consumers thinking about a monthly Apple Music subscription, Van Amburg and Erlicht are the right people to hire to build a roster of premium shows that could fill an Apple-branded Netflix rival.
What's more, as longtime studio chiefs, the Sony duo also knows how to manage the actual production and distribution of TV shows. This point is key, potentially: If Apple is serious about launching a subscription video service, it's probably going to want to own as many of its own shows as possible, rather than simply renting said shows from outside studios. It's the best way for a company to control all the profit centers from a show. Netflix began its scripted push by partnering with outside companies on shows such as House of Cards and Orange Is the New Black, but it, as well as Amazon, are now trying to produce in-house as often as possible. Cue's decision to recruit execs as well-known for their management and deal-making abilities as for their creative guts signals that Apple doesn't want to take a boutique approach to TV. There are plenty of mid-level TV creative executives who would've been better suited to such a gig. Conversely, unless they really just wanted a sweet Apple Store discount, Van Amburg and Erlicht probably wouldn't jump from Sony to Apple in order to make a few passion projects each year.
Of course, despite so many signs pointing to Apple appearing ready to finally upsize its TV programming ambitions, it's never smart to be too certain about the computer giant's plans. Silicon Valley types for years were absolutely certain that Jobs, and then his successor, was ready to unleash a new kind of TV set — a sort of iPod for the living room. That … never happened. It's been an open secret in Hollywood for over a year that Van Amburg and Erlicht were restless, and the duo was no doubt fuming when passed over for the top job at Sony Pictures following their former boss Michael Lynton's ouster. Apple has lots of cash and a history of spending millions to research projects that ultimately go nowhere. Maybe its new video titans aren't about to make a headlong assault on Netflix, or even Amazon and Hulu. Perhaps they'll just spend all their time saving Sony shows canceled by other networks (like The Get Down, which began its life when Erlicht and Van Amburg lured Baz Luhrmann to do a TV deal, or WGN's recently scrapped Underground). More likely? Much the way it didn't give up when Spotify seemingly cornered the market on streaming music, Apple has one more (big) thing planned in the TV space.