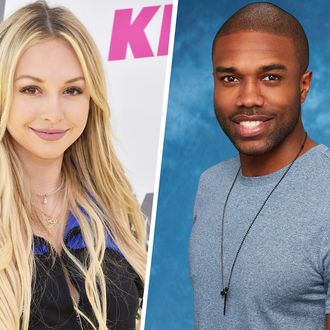 Corinne Olympios and Demario Jackson.
Photo: Getty Images; ABC
Since Warner Bros. announced on Sunday that the studio had shut down production on the Bachelor spinoff Bachelor in Paradise due to "allegations of misconduct," more and more disturbing details about what happened on set in Sayulita, Mexico, have emerged. This morning, the Daily Mail published a horrifying account from an anonymous BIP crew member who said they witnessed producers filming an alleged sexual assault.
The crew member's story is the most complete account of the alleged "misconduct" published to date. Before we get to the details, let's recap what's been reported so far: Several media outlets have reported that BIP contestant DeMario Jackson allegedly had a nonconsensual sexual encounter with contestant Corinne Olympios in a hot tub during filming. Sources connected to Jackson told TMZ that Jackson had oral sex with Olympios, that he was too drunk to have penetrative sex, and that "the next day everything was fine." Sources close to Olympios told TMZ that Olympios said she does not remember and did not consent to the sexual encounter. Warner Bros. is investigating the incident and won't comment on specifics for now.
The BIP crew member told the Daily Mail that the incident occurred after producers suggested Jackson and Olympios hook up. "Corinne and Demario found out when they arrived in Mexico that the story line would involve the two of them hooking up so they decided to hang out and get better acquainted over drinks," the source said. "Soon they decided to go swimming and when they climbed into the Jacuzzi, they were both loaded. Corinne proceeded to remove her bathing suit and things got increasingly sexual."
The crew member then provided a disturbing account of the encounter, during which Olympios "seemed to go limp":
There was hugging and kissing and touching, but before long, she seemed to go limp and was sliding under water. DeMario kept trying to hold her up and at the same time he appeared to be having intercourse with her. After he finished — which only lasted a few seconds — he lifted her out of the water and laid her on the cement, where he proceeded to have oral sex with her. She appeared to be unconscious. At that point some of the crew came out and carried her off to her room. She was limp and seemed unable to walk on her own.
The crew member was obviously disturbed by what they saw and by the production team's response to the alleged assault. "One of the things that really disturbed people was that no one called a doctor or paramedic, which some felt they should have," the source continued. "Instead someone made the decision to just let her sleep it off. When Corinne awoke the next morning, people began filling her in on what happened the night before, because she claimed to have absolutely no recollection of what transpired."
Our sister site the Cut has reached out to Jackson and representatives for Warner Bros. and Olympios. We will update this post as more information becomes available. In the meantime, if you have any information you'd like to share about Bachelor in Paradise, please contact allie.jones@nymag.com.
Update, 2:20 p.m.: Jackson has not officially commented on the allegations against him, but The New York Post just published some of his text messages that seem to outline his strategy going forward. In the texts, sent to an unknown party, Jackson writes that he wants "the footage" of his encounter with Olympios. "i just want the footage," he wrote. "we all know what happened and the tape will prove it." Jackson has yet to explicitly state that he believes Olympios consented to the encounter.