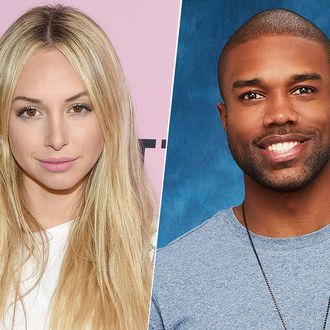 Corinne Olympios and Demario Jackson.
Photo: Getty Images; Courtesy of ABC
While Warner Bros. continues to investigate the alleged "misconduct" that recently occurred on the set of ABC's Bachelor in Paradise, more disturbing details about the nature of that misconduct have leaked to the gossip press. Earlier today, People reported that Warner Bros. was investigating a potentially nonconsensual sexual encounter that occurred during filming in Sayulita, Mexico. Now, the alleged victim in the situation is speaking out, through sources, to TMZ.
To recap: Multiple sources told People that BIP producers allegedly filmed cast member DeMario Jackson engaging in a sexual encounter with a female contestant who may have been too drunk to consent. Warner Bros. has declined to comment on the specifics of the allegations. Jackson, meanwhile, has defended himself to TMZ, stating, through sources, that he had oral sex with a female contestant in a hot tub and that "the next day everything was fine." Now, sources close to the female contestant are telling TMZ her side of the story. Originally, our sister site the Cut withheld the name of the contestant due to the sensitive nature of the allegations and the fact that she had not yet spoken out about them. Now, however, we will present her side of things, as told to TMZ.
TMZ reports that Corinne Olympios, who previously appeared on The Bachelor, says she did not consent to sexual activity with Jackson. From TMZ:
Corinne Olympios claims she was in a blackout state when she got sexual with fellow "Bachelor in Paradise" star DeMario Jackson … and she blames producers for not pulling the plug and protecting her… Sources close to Corinne tell TMZ she was drunk the entire day of filming when she ended up naked in the swimming pool with DeMario. Although DeMario remembers everything … she says she remembers nothing. We're told the day after the swimming pool incident she claims fellow cast members began telling her stories of what went down with DeMario. She says several cast members told her they had voiced concern to people on the production crew that she was in no position to consent to sexual activity, but the crew did not heed their warnings.
Jackson did not return the Cut's request for comment. The Cut has reached out to a representative for Olympios, and we will update this post as more information becomes available.