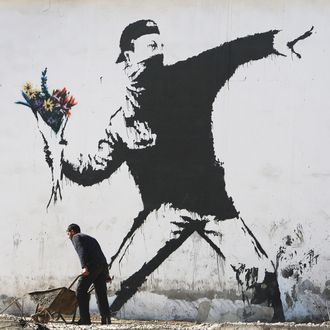 Photo: David Silverman/Getty Images
The true identity of Banksy is a more closely guarded secret than that of Batman. But after all these years, someone was bound to inadvertently drop a clue about the mystery man behind the satirical street art seen around the globe. In a recent interview on Scroobius Pip's podcast Distraction Pieces, UK jungle producer Goldie might have done just that by potentially letting slip the first name of Banksy:
"Give me a bubble letter and put it on a T-shirt and write 'Banksy' on it, and we're sorted. We can sell it now. No disrespect to Robert, I think he is a brilliant artist. I think he has flipped the world of art over."
The "Robert" Goldie mentions could be none other than Robert Del Naja, a lifelong friend of Goldie's and a member of the band Massive Attack. The evidence is pretty convincing: Goldie and Robert grew up in Bristol and were both graffiti artists running in the same circle in the 1980s. This isn't the first time Del Naja's name has been tied to Banksy; in 2016, a researcher linked Massive Attack's tour dates with Banksy's graffiti art popping up at the same time and in the same place, and suggested Del Naja was behind it all. If Del Naja is truly Banksy, perhaps he can spray-paint a foot being inserted into a mouth on Goldie's behalf.