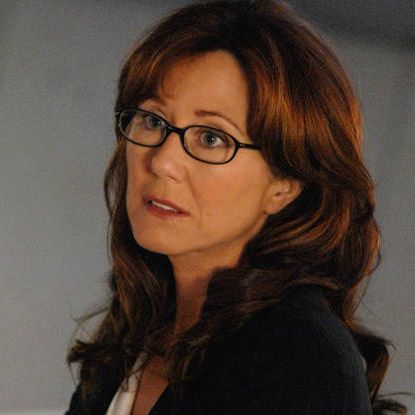 "The president we wish we had."
Photo: NBCUniversal Television
Battlestar Galactica's reputation as a powerful post-9/11 allegory preceded itself as the cast and creator Ronald D. Moore reunited Saturday at the closing-night event of the 2017 ATX Television Festival. While there were plenty of funny audition stories and insider's secrets to be shared — and no shortage of reminiscing as the actors recalled various iconic moments — the panel's participants repeatedly, and increasingly, turned to real-world topics. It started out with jokes: moderator James Hibberd introducing Mary McDonnell (who played President Laura Roslin) as "the president we wish we had," and James Callis remarking that he worked harder to land the part of Gaius Baltar than Donald Trump did to become, well, president of the United States. But as the conversation wore on, the cast — specifically, McDonnell herself — gave a reminder of just how thematically significant the show was and considered how its messages ought to be read in the new, unsettling political climate.
McDonnell said she was initially drawn to playing Roslin because of what, at the time, felt like the prescience of portraying a female president. In fact, she took inspiration from none other than Hillary Clinton: "We were shooting this when Hillary was running [for the Senate]," she said, "and it became a very timely event for me." Moore himself was originally motivated by the story's political potential and unearthing a "completely different resonance" in a War on Terror–era reboot. Unsurprisingly, when pressed for how he'd write the show in 2017, he quickly jumped to "[taking] advantage of the current political situation." (As for how to do that, exactly, Moore was less sure.)
The most stirring moment of the event, however, came when a fan asked the cast to give one of Battlestar's most infamous lines — "All of this has happened before and will happen again" — a contemporary interpretation. McDonnell chose to respond. "The idea that humanity could be reduced to 55,000 people all of a sudden and force a collective group of people to see each other as one, to me, is the thing that continually resonates about the show, because we're living in a time where the powers that be are trying to create as much difference between us as their pocketbooks will allow," she argued. "We're unfortunately living on the edge at the moment on the planet, so perhaps we can stop dividing each other and seeing each other as the other, because there's no difference." President we wish we had, indeed.