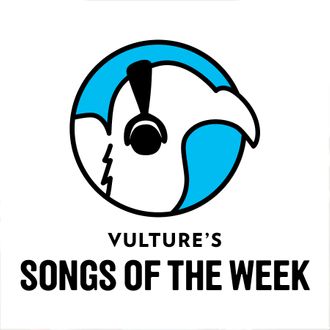 Every week Vulture highlights the best new music. If the song is worthy of your ears and attention, you will find it here. Read our picks below, share yours in the comments, and subscribe to the Vulture Playlist for a comprehensive guide to the year's best music.
Drake, "Signs"
Some songs are more of a vibe than a piece of music, just like some albums are not to be confused with playlists these days. Or so it goes with Drake, anyway. "Signs" is an aspirational mood-setter for some distant future (for most of us) when you're inclined to dress in expensive silk (perhaps designed by Louis Vuitton, which commissioned this song for Paris Fashion Week) and lounge poolside on a villa in Spain (like, say, Rihanna presently) smoking a cigar and sipping on champagne. With breakfast, as Drake recommends. The vibe: vacation. —Dee Lockett (@Dee_Lockett)
DJ Khaled ft. Future, Migos, 21 Savage, and T.I., "Iced Out My Arms"
If a good party host is indistinguishable from the party itself, then DJ Khaled is a great party host! Of course, even the best parties can go on for too long and have pointless, boring stretches: Grateful, the trust fund for his infant son masquerading as a double album, is over 87 minutes long, and a lot (fine, most) of the tracks are like bad party conversations: There's just not enough to bond over. But sometimes, somehow, you meet people who are perfect for you, and if Grateful is the festivity that wasn't always festive, "Iced Out My Arms" is the introduction that actually leads to a delightful conversation. Only Khaled could have gathered six legends from three separate generations of Atlanta trap under the roof of a single track, and he even bestowed upon them a prime Southside–Metro Boomin beat to carve up between them. Future takes the hook, sounding fashionable and fashionably depressed; the Migos go thirds on a verse, riddling it with glorious ad-libs; 21 Savage executes in style; and T.I., the original trap king, sounds more invested in impressive language than he's been for quite some time. This song is an opportunity to (a) enjoy yourself thoroughly, and (b) help ensure Asahd Khaled receives an expensive private education. There aren't many opportunities to do both at once. —Frank Guan (@frankophilia)
Desiigner ft. Gucci Mane, "Life"
Once you accept that Desiigner couldn't exist without Future, it becomes a lot easier to enjoy Desiigner. So yeah, they sound alike, but Desiigner's whole thing is the elasticity of his voice, not what he's saying. Does that mean his best songs might not be as lasting as Future's? Probably! But he's got the right energy, and "Life," which features another great introspective post-prison Gucci Mane verse, is another entry in the effortlessly appealing lineage of Desiigner cult singles. —Sam Hockley-Smith (@shockleysmith)
Vince Staples ft. Kilo Kush and A$AP Rocky, "SAMO"
Doing what you used to do again is hardly new subject matter for Vince Staples: Turn the clock back to his 2013 mixtape Stolen Youth and you'll find him rapping about being "Stuck in My Ways." But judging by "SAMO," the latest take on the topic from his just-released Big Fish Theory, some things have altered. The Basquiat allusion in the title is just the first sign that the Long Beach street artist now sees himself as a creator of fine art as well. He's rapping over sparse, abstractly savage electronica instead of a Portishead sample, and his lyrics testify to new developments in his life tied to a growing profile in music: an expensive couch, money-minded groupies scheming to be mothers of his child, attempts to get his friends access to the finer things in life. The more things stay the same, the more they change.
Still, Portishead is plenty savage and electronic in its own way (and Sophie, the "SAMO" producer, hails from Britain just like the Bristol trio); Staples's mistrust of women is long-standing; and his friends are free to potentially reap material benefits only because he still knows how to keep his silence regarding past actions. Staples's flow has gotten colder and more agile in the intervening years, and he finds creative ways to heighten its effect, calling in Kilo Kish and A$AP Rocky to deliver chill invocations and muted snarling, respectively. He doesn't have to announce he's not to be fucked with; the poise, compression, and contempt in his tone gets the message across implicitly. "They know who did the killing but they didn't see. Want a verse? It's a price. Want a show? It's a fee. We don't do no bargain shopping, we don't show no empathy." Self-control never sounded quite as costly, eloquent, or scary. —FG
The Killers, "The Man"
It's 2017 and all your fave 2000s bands have just discovered explosive disco-funk. To be fair, Brandon Flowers and Arcade Fire have been dabbling in that part of music's past for a few years, but, for whatever cosmic reason, both the Killers and AF are putting out new music that sounds indistinguishable. But if I had to pick one late-'70s, early-'80s revival, my vote will always go to Flowers. Disco wasn't just about synthesizers and boogie nights, it was about having the attitude to complete the aesthetic. Flowers just keeps on nailing it. Check this guy out. —DL
Wiki, "Pretty Bull"
It feels like a distant memory now, but a few years ago, the concept that rap was dead was actually being debated by a number of writers and artists. Rap, of course, was nowhere near dead, and that fact has since been heavily cemented and then paved over, hopefully forever. New York rapper Wiki has achieved the impossible task of being reverent of this city's complicated history of the genre, even as he pushes it forward. It's worth noting he manages to capture the spirit and energy of rap songs about New York summers — impromptu parties featuring weirdos of all stripes coming together, because where else are they going to go? — without sounding like the rap songs that used to evoke New York summers. —SH-S