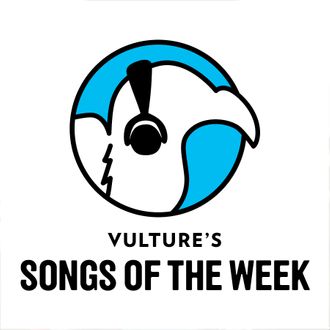 Every week Vulture highlights the best new music. If the song is worthy of your ears and attention, you will find it here. Read our picks below, share yours in the comments, and subscribe to the Vulture Playlist for a comprehensive guide to the year's best music.
Lorde, "Hard Feelings"
I'm going to break the apparent rule that criticism and the personal should be kept separate because Lorde didn't make Melodrama expecting people to hear it and feel nothing. "Hard Feelings" (and I'm only going to praise the first half of this song) will bulldoze the heart before it even knows what hit it because it was written from the place of a heart that's already been flattened. Lorde fell out of love and this is how she coped. Thank god it happened to her in her teens and not, say, at 25 when you thought you'd cleared that hurdle. Breakups are terrifying when they happen later in life. Sudden change, change of any kind, gets harder. Getting to the point where you'll "care for myself the way I used to care for you" takes longer to put into practice; I'm glad Lorde thinks she has it figured out already, and, hell, maybe this acutely self-aware prodigy does. But one fact transcends age: shit hurts. That's why when "Hard Feelings" implodes into a severe cacophony of Jack Antonoff noise, you can't just shut it out. That's not how heartbreak works.
Now, here's the criticism: "Hard Feelings/Loveless" is just as mathematically imperfect as everything else on Melodrama that Max Martin probably can't stand, and that's especially true of its second half, the spiteful "Loveless." But the process of letting go will always be imperfect; there's no other way to do it. That doesn't mean the work can't be as perfect as "Hard Feelings" truly is in the face of that hard truth. —Dee Lockett (@Dee_Lockett)
Haim, "Little of Your Love"
The question was recently asked: Is it corny to like Haim? The answer is increasingly yes, but it turns out my enjoyment of these L.A. witches is a function of that corniness, because I really enjoyed old Haim. But I love new Haim. I want to swan dive into a pool of Wilson Phillips. I want Danielle to sing to me about getting just a little of your love over a hand-clapping beat. I want it all. —Jordan Crucchiola (JorCru)
Kane Strang, "My Smile Is Extinct"
The first time I heard New Zealand's Kane Strang was on "The Web," which was about meeting someone on the internet and then pretty much just living a hermetic existence without ever interacting with that person in the real world. It was charming and melancholy, and I come back to it often. "My Smile Is Extinct," the latest single from his upcoming Two Hearts and No Brain, is another song in the Kane Strang mold, meaning he approaches a basic idea — in this case death/sadness/breakups (well-worn territory to be sure) — and then elevates it to creative new heights: "I said kill me now / I want to die / I heard there's a chance at an afterlife / I might not get in, but at least I won't be living." I promise it doesn't sound as bleak as it seems when you read those lyrics. —Sam Hockley-Smith (@shockleysmith)
Queens of the Stone Age, "The Way You Used to Do"
Queens of the Stone Age's announcement that they'd enlisted Lady Gaga and Bruno Mars producer Mark Ronson for their follow-up to 2013's excellent …Like Clockwork has had some diehards crying "pop!" But front man Josh Homme sounds as badass as ever here, singing about fever dreams and the world exploding over maniacal guitar riffs and cheeky hand claps (the man loves his hand claps). Our first taste of Villains sounds like what the bluesman Slim Harpo might have put out if he'd grown up in the age of energy drinks, MTV, and Adderall — and in Palm Springs. A recent NME interview quotes Homme as saying that this track is "all about screwing." But that doesn't fully capture the spirit of the song; I'll bet you anything that the word he actually used was "fucking." —Gabe Cohn (@gabescohn)
2 Chainz, "Trap Check"
Even if "Trap Check" didn't sample Jeezy's "Get Ya Mind Right" and T.I.'s "ASAP" — two songs dear to my trap-loving heart — it would still tick all the boxes for a great trap standard. There's nothing I want more from this kind of Atlanta-bred sound than a murderous beat (bless you Buddah Bless) and a grocery list of humblebrags delivered any way but humbly. Pretty Girls Like Trap Music is fast becoming my favorite 2 Chainz album with every repeat listen. —DL
The Range "New Lots"
As the Range, James Hinton has a knack for melding vocal samples to his original music in a way that elicits shocks of pure emotion, and then follows that emotion up with some sort of cathartic release. It's the promise of EDM fully realized through a sound that isn't really connected to EDM. "New Lots" is the latest release from Hinton, and while he doesn't have the space to explore all the different ideas he did across the entirety of 2016's Potential, he does manage to put another solid notch in the electronic subgenre I just now invented: This is pure "crying at the music festival but not because of alcohol or drugs" music. —SH-S
DeJ Loaf, "No Fear"
It's pretty amazing DeJ Loaf hasn't released her debut album yet — but then, listening to her latest song and keeping in mind how slowly artist development works these days (that's when it exists at all), no it isn't. It's clear from "No Fear" she's still testing the waters and figuring out exactly what she wants to say and, especially, how. Half her songs are slick melodic raps, then the other half are split between bedroom bangers ("Me U & Hennessy" remains flawless) and, like "No Fear," pop-ish. This is more proof of DeJ Loaf being unafraid to bare her soul and tell it how it is to a lover. She's trying to be with you, bro, despite the apparent obstacles. Give her a chance! —DL