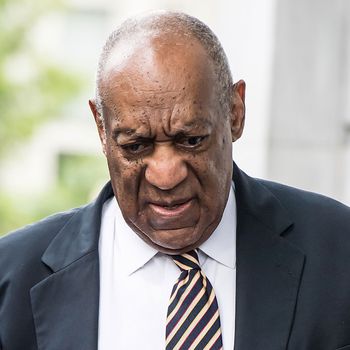 Bill Cosby.
Photo: Gilbert Carrasquillo/Getty Images
UPDATE: The Montgomery County D.A. tweeted that there will be a retrial.
Just after 10 a.m. today, the Bill Cosby sexual assault case ended in a mistrial. The long-awaited announcement was delivered to a packed gallery at the Montgomery County Courthouse just outside of Philadelphia. The jury announced it was hopelessly deadlocked on all of the three felony indecent sexual assault counts. 
 
It's neither vindication nor victory, said the judge, who polled each jury member about the deadlock. They were all in agreement that they could not successfully reach a unanimous verdict. As such, defense moved for a mistrial, which was accepted. 
 
The judge credited the jury with "one of the most courageous acts" he has seen in the justice system. "I will forever hold you dear in my heart," he told them. 
 
As the mistrial was announced, the 79-year-old comedian appeared calm beside his lawyers. There was little reaction in the courtroom. 
 
It had been a grueling week since the jurors began deliberating late Monday. Press, public and Cosby's accusers and supporters have waited for sometimes 12-hour days at the courthouse for any sign that news was forthcoming. All told, the jury deliberated for 52 hours on the case. 
 
Throughout the high-profile trial, 13 witnesses testified, including Andrea Constand, the former sports director at Temple University who has accused Cosby of drugging and sexually assaulting her in his suburban Philadelphia home in 2004. Constand spent seven hours being grilled on the stand. Cosby, who continued to deny the allegations throughout the case, never testified in his own defense. 
 
As the jury deliberated, announcing days ago that they were deadlocked, Cosby's legal team filed several motions for mistrial that were overruled by the judge. By late Friday night it was unclear if deliberations might proceed into next week or whether the trial would end in a hung jury. 
 
What happens next is up to the Montgomery County D.A.'s Office. Prosecutors will decide whether to retry the case. If a new trial is called, the TV star could face up to 10 years on each of the guilty charges pending, with fines of up to $25,000 each. He also faces an upcoming civil suit later this month in California. Cosby is accused of raping a 15-year-old girl at the Playboy mansion in 1974.
Camille Cosby, wife of Bill Cosby, has issued a statement in response to the mistrial.