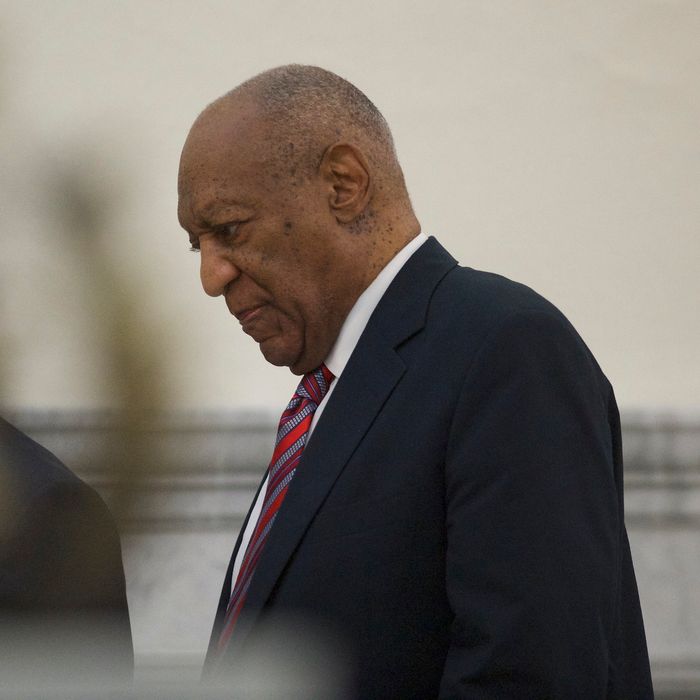 Bill Cosby.
Photo: Mark Makela/Getty Images
In what may be the closest we ever get to hearing Bill Cosby's side of the story in the sexual assault case against him, details from his controversial police interview from 2005 were finally revealed on the fourth day of testimony at the Montgomery County Courthouse outside of Philadelphia. After spending close to an hour and a half debating the merits of releasing all or a portion of Cosby's first-person deposition, prosecutors and the defense team emerged from behind closed doors with a seemingly comfortable compromise. When the trial resumed just after 10 a.m. this morning, it started with Cosby's own words about Andrea Constand and the night she accused him of drugging and assaulting her.
"There was petting and touching of private parts," Cosby told police during his initial interview at his lawyer's New York City office in 2005. What emerged was a very different story than the one the court heard from Constand yesterday. Not only did Cosby admit in the deposition that he had indeed enjoyed a casual, consensual relationship with the former Temple University sports director, but he also admitted to providing her pills one evening in his home after she complained about being unable to sleep.
Cosby was up front with investigators about furnishing pills to his accuser. He confirmed in the deposition that he gave Constand pills the night she alleged he assaulted her, and that he felt "comfortable doing that" after she complained about not being able to sleep. Cosby also admitted he regularly uses the same medication – Benadryl – to help him sleep on the road.
At one point during Cosby's interview, he did something that surprised investigators. Without being prompted, he produced several bottles of pills from his luggage, including pink oblong pills, round green pills, and small white pills. He told investigators that one was for his heart and the other was an herbal supplement. The third was presumably Benadryl.
Where the story radically shifts gears is what happened after Constand took the pills, which she remembers as being blue, according to yesterday's testimony. According to Cosby in the deposition, they proceeded to engage in "petting," what he described as "touching and kissing with clothes on" on the living room sofa before he headed to bed, leaving Constand alone downstairs. She testified yesterday that she never consented to his advances that night, and that she awoke in the morning with her clothes disheveled. He said that when he got up the next morning, he gave her a homemade blueberry muffin and tea.
Sgt. Richard Schaffer, a 17-year veteran of the Cheltenham Township Police Department, then took the stand to share even more intimate details from the case. "I never intended to have sexual intercourse" with Constand, Cosby told him, alleging that he and Constand kissed and touched several times at his home, but the relationship never went further. The only time Constand rejected his advances, the comedian said, was when he removed her bra and put his lips on her breast. "My impression," he told police, "was she just didn't want to go that far."
It's also unclear whether Constand and Cosby stayed in communication after the night of the alleged assault. She eventually left her job at Temple and relocated to Toronto. Constand's former neighbor in Philadelphia told the court that he noticed a change in her, and that she moved from the city abruptly.
In a curious turn, it was revealed that Cosby offered to pay for Constand's graduate school education after he was confronted by Constand's mother on the phone (a conversation that is believed to have been recorded). At one point during the alleged conversation, Cosby supposedly told Constand's mother that he never engaged in penetrative sex with her daughter. He apologized twice.
Cosby later told investigators that he suspected Constand actually suffers from a learning disability or possibly even ADD. "It just became work," he said of their relationship. He voiced a certain relief that Constand moved to Canada to pursue a career as a massage therapist.
Before she moved, however, Cosby admittedly offered Constand career advice and thought of himself as a "father figure" or "mentor." At one point, he even introduced Constand to the William Morris Agency to discuss her aspirations of becoming a sports broadcaster.