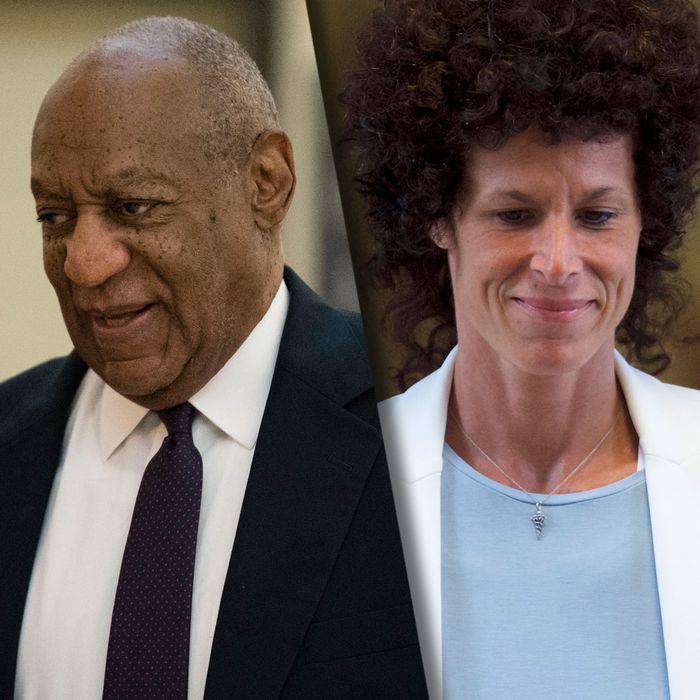 Bill Cosby and Andrea Constand.
Photo: Getty Images
After seven hours being grilled by the defense, Andrea Constand kept her poise Wednesday at the Montgomery County Courthouse in suburban Philadelphia. Constand, a former Temple University employee who has accused Bill Cosby of sexual assault, gave mostly one- and two-word answers as she recounted how the former TV dad allegedly sexually assaulted her in early 2004.
The defense team, who spent most of day three of the trial drilling Constand about her phone records, tried to paint a picture of a woman enamored by Cosby's celebrity.
Los Angeles Attorney Angela Agrusa painstakingly went through phone records for several hours, suggesting that Cosby's accuser stayed in contact with him even after the alleged assault happened. The defense team even went so far as to suggest that Constand called Cosby sometimes up to six times in one day, while accepting gifts and tickets to his shows.
At one point, Constand admitted to giving Cosby an illustration of Fat Albert, a well-known cartoon character he created, with her face on it.
"It was something very silly," she said.
Wearing a two-piece suit and sporty white sneakers, Constand frequently fiddled with her reading glasses during the cross-examination, sometimes having trouble following the evidence and requesting assistance from the attorneys.
At one point, Agrusa asked Constand how she could not have possibly known that Cosby was interested in her either romantically or sexually, and listed gifts he gave her, ranging from cashmere sweaters and perfume to incense and bath salts, as well as a $225 hair dryer.
"Mr. Cosby never disclosed to me that he was interested in a romantic interaction with me," she said.
The nearly 80-year-old comedian showed little reaction during his accuser's testimony, only occasionally whispering to his legal team or placing his hands on or near his face. He noticeably shook his head when Constand described the alleged sexual assault in detail, claiming that Cosby undid her pants, put his finger in her vagina, and placed her hand on his penis as she was under the influence of drugs and alcohol he provided. Believing that she had taken herbal supplements to help relax, Contand said that she did not and could not consent, and that when she woke up the next morning her bra was undone and her clothes were disheveled.
Despite the defense's efforts to discredit Constand as having a consensual sexual relationship with Cosby, the prosecution ultimately connected a few important dots between Constand, a former Temple University director of women's basketball operations, and Cosby, a former member of the board of trustees of the school where she worked. Theirs was a professional relationship, emphasized prosecutor Kristen Feden, one in which a sports director would have every reason in the world to return calls from a very important trustee.
"What was the one thing I told you to do when you took the stand?" Feden pointedly asked Constand.
"Tell the truth," she said.
"Is that what you did?" asked Feden.
"Yes," said Constand.