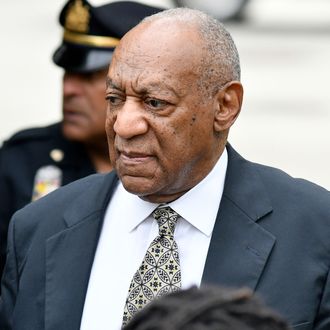 Photo: Bastiaan Slabbers/NurPhoto/Getty Images
For the third time today, court was called back into session during deliberations of the Bill Cosby trial at the Montgomery County Courthouse outside of Philadelphia. As the court eagerly awaited news of a possible verdict in the comedian's felony sexual-assault case, hopes were soon dashed when the jury came back with yet another question about key evidence.
It's the 13th inquiry the jury has made since deliberations began late Monday. This time, they wanted to revisit the testimony of Andrea Constand, the former Temple University sports director who has accused Cosby of drugging and assaulting her in his suburban Philadelphia home in 2004. Because the latest question concerned testimony that had been reread to the jury less than an hour earlier, the judge denied the request and promptly sent the jurors back into deliberations.
All told, the jury has asked to review several excerpts of key witness testimony given by Constand, Constand's mother, and investigators. The jury has also asked to revisit portions of Cosby's past statements to investigators, everything from his admitted use of quaaludes to conversations he had with Constand's mother. One of today's transcripts recounted a phone conversation Cosby had in which he bragged about giving Constand an orgasm through manual stimulation.
Based on the jury's questions, it might appear that at least one or multiple jurors are having trouble with the legal definition of reasonable doubt. It's also likely that jurors could be split on all three charges. Cosby is facing three felony indecent sexual assault charges, each of which carries up to ten years in prison and thousands in fines. If the jury cannot come to a unanimous decision about some or all of the charges, a mistrial could be declared and the Montgomery County DA's office will need to consider if they'll bring another case against Cosby.
What happens next is truly anyone's guess. If the jury is unable to reach a verdict by the end of today (last night's deliberations lasted until close to 9 p.m.), they could be expected to continue on Saturday (the courthouse is closed on Sunday). It's also likely that Cosby's defense team will have something more to say about the potential for a mistrial. The comedian's legal counsel has already made several motions for mistrial, citing the deadlocked jury's inability to come to a timely verdict.