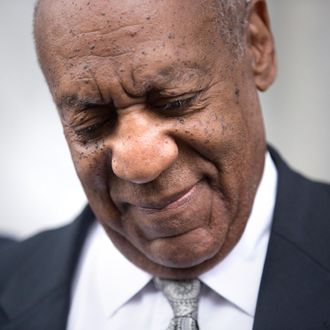 Cosby.
Photo: Kevin Hagen/Getty Images
Though Bill Cosby's sexual-assault trial ended in a mistrial, his legal troubles pertaining to the case aren't over yet. Or are they? In a postmortem on the trial, Cosby's lawyer Angela Agrusa says she believes the prosecution's announcement that they will retry the case involving Cosby's alleged 2004 sexual assault of Andrea Constand was protocol, but nothing's set in stone. "I believe that the Commonwealth had to state [the intention of a retrial] when they stated it. They have a lot of searching to do when they make a decision," she says. "I hope they don't [retry]. I don't think the outcome would be any better for them … Everyone knows that cases don't get better with time." Agrusa also says she was told the jury was ultimately split after 52 hours of deliberation (though the breakdown of the jury vote has not been made public, and Agrusa has not been informed of the tally). "I don't believe it was a single holdout," she says, indicating that the jury may not have been swinging in either side's favor and that she counts the mistrial as a win: "We wanted an acquittal, but a mistrial or a deadlock is the same result as the group of jurors finding him not guilty. Prosecutors didn't have the evidence."
Still, Agrusa did believe Cosby may have been found guilty after the jury kept asking for clarification and testimony to be repeated during deliberations. "Every time a question came in that seemed detrimental [to Cosby], I thought a guilty verdict was coming," she says. As for Cosby's claims prior to the start of the trial that he would not testify, Agrusa says that decision happened at the eleventh hour. "He is a very charismatic man. He is a storyteller," she says. "We knew a jury would want to hear from him. We were always prepared to put him on the stand. We were still talking about this on the weekend before close."
Ultimately, Cosby's team decided against him taking the stand the Saturday morning before the trial resumed last Monday, when the defense only called one witness before resting, which Agrusa says should not have come as such a shock to reporters because it's so common. The judge now has 120 days to meet with the defense and prosecution and set a new start date for a retrial, though The Hollywood Reporter notes that prosecutors may first try to appeal earlier rulings on points such as how many accusers can testify at a second trial.