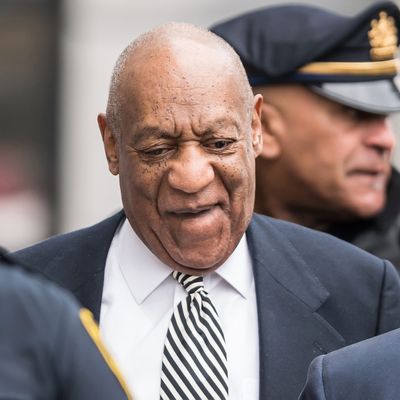 The trial is set to begin June 5.
Photo: Gilbert Carrasquillo/Getty Images
Starting today, June 5, Bill Cosby will be tried for the alleged sexual assault of Andrea Constand. For many who have watched this story unfold, it's been a long time coming: Nearly 60 women have come forward to accuse the comedian of abuse — the various alleged crimes, including assault and drugging, date back decades — but Constand's case against Cosby is the first to draw criminal charges. Given the history of the allegations, coupled with Cosby's stratospheric fame and the intense public interest in his fate, this will be no ordinary trial. Here's everything you need to know about the Cosby trial to prepare to follow along.

Why is Bill Cosby on trial?
In January or February 2004, a woman named Andrea Constand alleges that Bill Cosby drugged and sexually assaulted her at his mansion in Elkins Park, Pennsylvania. She claims that one night Cosby gave her wine and three pills that he said were herbal medication to relieve stress that then "left her unable to speak or move after about 30 minutes." Afterward, Constand says Cosby "sexually violated me without me consenting." Cosby was charged in December 2015 with three counts of aggravated indecent sexual assault, which is a second-degree felony.
And who is Andrea Constand, again?
She's a Canadian former basketball star who was, at the time, 31 years old and working as the director of operations of the women's basketball team at Cosby's alma mater Temple University. Constand and Cosby met in 2001 at a women's basketball game at Temple when Cosby served on Temple's Board of Trustees (he has since resigned). Constand says she had frequented Cosby's Elkins Park mansion for dinner parties and private dinners during her time at Temple when Cosby offered to give her career advice. Despite being in a relationship with another woman at the time of the incident, Constand says she doesn't think Cosby knew she was gay. Prior to the events now at the center of this trial, Constand says she twice refused Cosby's "embarrassing sexual advances, once when he unbuttoned her pants and began touching her." Four months after the alleged assault at the center of this case, Constand quit her job at Temple and moved back to Canada, where she says she suffered from "nightmares, screaming in her sleep, flashbacks, anxiety, sleeplessness, and depression." On January 13, 2005, a year after the alleged assault, she notified police about what happened with Cosby, after Constand says a flashback triggered the memory and she told her mother about the incident.
Then why is this trial happening now and not over a decade ago?
Stay with us because this gets tricky. After Constand went to the police in January 2005, a criminal investigation was opened, but it fizzled out quickly over insufficient evidence (among many other reasons) and her case was subsequently dropped. Then, in March 2005, Constand tried again and filed a civil lawsuit against Cosby — only, this time, she cited 13 Jane Does who came forward with their own accusations that Cosby also sexually assaulted and drugged them to back up her claims. In 2006, the suit was settled out of court for an undisclosed amount and both Cosby and Constand signed a nondisclosure agreement.
In the decade since, a perfect storm emerged with Cosby in the eye of it. Comedian Hannibal Buress jogged public memory of these allegations when he told a joke at one of his stand-up shows in October 2014 that noted the hypocrisy of Cosby's finger-wagging when he's an alleged rapist. The bit went viral, as did the accusations against Cosby; in the years since, nearly 60 women have accused Cosby of all the things (and more) that Constand originally did in 2005, but almost all those alleged crimes occurred after the statute of limitations to prosecute Cosby had expired. (New York documented 35 of their testimonials.)
It all came to a head when, in July 2015, Constand filed a motion to have Cosby's deposition from her civil suit unsealed on the grounds that he had already broken the nondisclosure agreement in his responses to the newly surfaced allegations. A federal court finally unsealed the transcript following a request from the Associated Press. In his testimony, Cosby admitted to drugging Constand and having sexual contact with her — as well as other women on different occasions — though he maintained the sex was consensual. He also stated that the three pills he gave Constand were actually Benadryl. Constand's police statement was also unsealed, revealing graphic details of the alleged assault involving "digital penetration," fondling of her breasts, placing her hand on his penis, and Constand waking up at 4 a.m. with her clothes and underwear not as they were and her vagina feeling "raw."
Pennsylvania's 12-year statute of limitations on Constand's allegations was set to expire in January 2016 — meaning Cosby could no longer be prosecuted in that case — but, in late 2015, the Montgomery Country district attorney's office reopened the decade-old criminal investigation into Constand's accusations against Cosby, citing the unsealed deposition as new evidence. By December 2015, Cosby was charged. And after many preliminary hearings and a judge's May 2016 ruling to take the case to trial — plus several attempts from Cosby's lawyers to have the case dismissed — here we are now, a month out from trial.
Will Cosby's deposition be a factor in the trial?
Definitely. Originally, Cosby's lawyers petitioned the judge to strike all parts of his deposition from Constand's suit pertaining to drugs and sexual contact with the other Jane Does. However, the judge has ruled that the jury can hear Cosby's admissions that he gave women Quaaludes, despite his lawyer's objections that Quaaludes stopped being manufactured long before the time Cosby drugged Constand. What the jury can't hear, however, is Cosby's "Spanish fly" excerpt from his 1991 book Childhood (in which he joked that women need to be coerced into having sex with date-rape drugs like Spanish fly). They also can't hear any mention of Constand's civil suit, including the settlement. That means when the deposition is referenced, it will be in the context of a "prior legal matter." It also means it will be harder for Cosby's lawyers to argue that Constand falsely accused Cosby in order to extort him.
Does that mean all the other accusers get to testify?
No. One compromise the judge made with Cosby's lawyers is that only one of the other 13 Jane Does referenced in Constand's suit can testify at this trial, along with Constand herself. Her name is reportedly Kacey (last name undisclosed; she's known to the court as "Prior Alleged Victim Six") and, during the '90s, she was an assistant to Cosby's old agent Tom Illius at William Morris. She claims Cosby drugged and assaulted her in 1996 at his California hotel bungalow. Cosby was never charged in connection with those separate allegations.
Will Cosby testify?
In a May 16 interview with Sirius XM's Michael Smerconish, Cosby said he won't testify at his trial because he doesn't want to interfere with his lawyers' case. "When you have to deal with examination, cross-examination, et cetera, et cetera, more than two sides to every story, sometimes it's four or five," he said. "And what people want to say and want you to say and how they maneuver, and, yes, I do have lawyers protect me — objection; sustained. But I just don't want to sit there and have to figure out what I believe is a truthful answer to whether or not I'm opening a can of something that my lawyers are scrambling."
So, who are the jurors that will be hearing all this?
Initially, there was a fuss over where the trial would even take place. Cosby's lawyers wanted it moved to a larger city, where there would be a better chance at having a more diverse jury. But the judge, again, came up with a compromise: The trial will remain in Montgomery County in the Philadelphia suburb of Norristown, Pennsylvania, but the jury will be selected from an outside county, specifically Allegheny County in Pittsburgh. The judge has also ruled that these jurors will be sequestered in Philadelphia (Cosby's hometown) for the duration of the trial. Cosby's lawyers had feared that Cosby would be unable to get a fair trial if the jurors came from Montgomery County because of that community's particularly increased exposure to bad press about Cosby. (More on that later.)
Jury selection began on May 22 and ended on May 24, with 12 jurors and six alternates selected, but not without controversy. Only two jurors and two alternates are black, which led to Cosby's defense accusing prosecutors of racial bias after they blocked an African-American woman from the jury. "We believe this is a systematic exclusion of African-Americans who answered that they could be objective," Cosby's lawyers said. Prosecutors claimed the potential juror in question had been accused of falsifying time sheets in a previous criminal investigation and, therefore, "could be biased against the prosecution in the Cosby case." Judge Steven T. O'Neill sided with the prosecution. This is how the jury currently looks: Six white men, four white women, one black man, and one black woman. The alternates are four white men, one black man, and one black woman.
What's this about a political race influencing the prosecution?
There is some controversy surrounding the reopening of Constand's case. At the time of the original investigation in 2005, Bruce Castor was the district attorney of Montgomery County in Pennsylvania, and he's the one who decided not to charge Cosby at that time. It was later revealed via Castor's own testimony at a hearing after Cosby was charged in 2015 that he'd made a "binding promise" to Cosby to never prosecute him in exchange for Cosby's testimony in Constand's civil suit. (A judge ruled, however, that this promise didn't preclude the new charges from proceeding; Constand also sued Castor for defamation.) Castor later testified, "What I think is Andrea Constand was inappropriately touched by Mr. Cosby … [but in the ensuing year she] ruined her own credibility and would not be believed by a jury. That does not mean she was not telling the truth." There has also been speculation, fueled especially by Cosby's legal team, that the new district attorney Kevin Steele used Castor's failure to prosecute Cosby as political leverage, now that Cosby was back in the news, to beat Castor in his bid for reelection. (Steele referenced Castor's Cosby decision in political ads.) Cosby's lawyers have insinuated that Steele rushed to charge Cosby to make good on his political promise after he won, and beat the statute of limitations.

How are Cosby's lawyers planning to defend him?
According to an interview with Cosby's lead attorney Angela Agrusa (who replaced Marty Singer), their strategy to get Cosby acquitted will be largely based on "changing the optics." Essentially, that means getting the jury to believe Cosby has been a victim of the media. Their main argument against the high number of accusers — who can't be mentioned at the trial anyway — is "false memory creation," a phenomenon of the mind that suggests that consistently being presented a certain set of news (like that Cosby is an alleged serial abuser) can distort public memory and cause people to think things that didn't happen did. For example, Agrusa might argue that the second accuser who'll testify may have been influenced by the news, instead of flat out calling her a liar (as was Singer's old strategy, which got him sued). Agrusa and her team are also looking to bring in "sympathetic voices" like Cosby's daughter Evin who can defend Cosby's character. On day one of the trial, Cosby arrived with Keshia Knight Pulliam, who played his youngest Cosby Show daughter Rudy Huxtable; more supporters, like his Cosby Show wife Phylicia Rashad, and the president of the Thurgood Marshall College Fund are expected to attend the trial. Cosby's lawyers are also closely monitoring all media coverage of Cosby, including documentaries from CNN and the BBC, as the trial nears so that potential jurors won't be affected. But likely the biggest angle the defense will use is also going after Constand's credibility. (More on that below.)
Is there anything else about Constand we should know?
Possibly. There are two points about Constand's behavior after the night of the alleged assault that Cosby's lawyers will almost certainly pounce on at trial to damage her case. First, Constand waited a full year to notify police of what she says happened that night and couldn't give an exact date of when it allegedly happened, saying "between mid-January and mid-February 2004." (She told police at the time that "an element of fear," "trauma," and "emotional stress" prevented her from coming forward sooner.) Second, Constand continued contact with Cosby after the alleged assault. More unsealed court documents from Constand's 2005 police statement revealed that in March 2004, a couple months after the alleged incident, Constand agreed to go to a dinner with Cosby and a larger group so she could "confront" him about what happened and find out what kind of pills he gave her. She ended up going to his house after the dinner to ask him about that night, but she says Cosby thwarted her questions and made her feel "uncomfortable" by sitting too close, so she left.
After Constand moved back to Toronto, she says Cosby called her to offer her four tickets to his comedy show at Casino Rama on August 4, 2004. Constand's mom says Andrea took her parents to meet Cosby backstage at that show; Constand claims that was the only contact she and Cosby had during his visit. In a separate testimony, it was revealed that Constand gave Cosby a sweater as a gift at that show. After Constand informed her mother of the alleged assault, Constand's mother called Cosby on January 16, 2005, to also "confront" Cosby about what happened. Andrea was also on the line and says Cosby admitted what she says he did and apologized to both Constand and her mother. The next day, Constand says Cosby called her and her mother four times. Days later, she says one of Cosby's representatives invited Constand and her mother on Cosby's behalf to come to Florida. They declined. Constand says another man claiming to work on Cosby's educational trust funds also called to set up a trust fund for Constand.
And what about Cosby?
It's currently unclear how this would affect the trial, but Cosby claims he is now completely blind as of two years ago.
What happens if Cosby is found guilty?
Each charge carries a maximum sentence of ten years. If convicted on all three counts, Cosby faces a maximum of 15 to 30 years in prison, though a judge could also decide that his sentences may be carried out concurrently, meaning he'd serve ten years.
How long until we get the verdict?
Opening statements kick off on June 5 and the trial is expected to last two weeks, though there's no telling how long jury deliberation could take afterward.
Can we watch this thing?
If the judge allowed cameras inside the courtroom, you could expect to see this trial broadcast and streamed everywhere like it's the O.J. Simpson trial all over again. According to NPR, the judge will not allow cameras inside the courtroom and reporters have been required to turn off their cell phones while inside or face a fine or jail time. Still photography and video have reportedly always been prohibited in Pennsylvania court, but the ban on social media and access to phones is an increased security measure enforced within the judge's right. That means coverage of the trial might be severely restricted, with even live tweets and updates on social media limited. However, video and photos outside the courtroom, such as Cosby entering and leaving, can be filmed.

This post has been updated throughout.