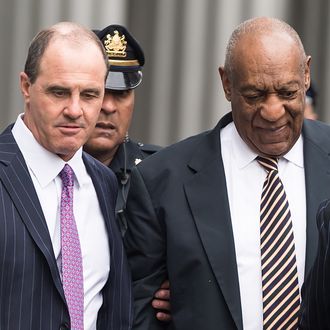 McMonagle and Cosby.
Photo: Gilbert Carrasquillo/WireImage
Things got heated at the Montgomery County Courthouse Friday. For the 11th time, the jury in the Bill Cosby sexual-assault trial asked to review evidence from the trial, this time a rereading of both Andrea Constand and her mother's witness testimonies. Constand, the woman accusing the 79-year-old entertainer of drugging and raping her in his suburban Philadelphia home, spent seven hours on the stand more than a week ago.
Before the jury was brought back into the courtroom to discuss their latest request for evidence, Cosby's defense attorney Brian McMonagle jumped up from his seat with a motion for mistrial. It's the sixth time the defense team has pushed for a mistrial since the jury began deliberating late Monday. McMonagle said he's frustrated by the jury's daily requests to revisit evidence. He said if it continues, the court may end up hearing the entire case for the second time.
"I'm going to ask this court at this point in time to declare a mistrial," said McMonagle. He cited the jury's more than 40 hours of deliberation and the announcement just yesterday that they were deadlocked.
The judge quickly countered the defense's motion, saying that the court is "obligated under law" to give a deadlocked jury instructions and additional time to deliberate. The hope is that they can reach a unanimous verdict on the three felony sexual-assault charges that Cosby faces.
Despite McMonagle's zealous mistrial push, Judge Steven O'Neill said he has seen no evidence to suggest that the jury is unable to deliberate. At one point, the two men talked over each other as McMonagle expressed concern that the jury somehow believed that they must continue to deliberate "until the cows come home."
"Is there something in the law that says they can't have that?" asked O'Neill, who reminded the court that he does not have the right to stop deliberations that are proceeding. No evidence, he said, has been submitted suggesting the jury is somehow unable to perform its duty, and he denied the defense's motion.
The jury is expected to reconvene in the courtroom after lunch to hear a rereading of the testimony. But with the weekend fast approaching, the mood around the courthouse is increasingly pessimistic about whether there will be any closure in this case. Whether the deadlocked jury will be able to come to a unanimous decision today is anyone's guess. If they cannot, deliberations could very well continue into next week.