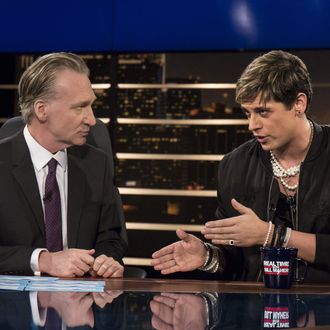 Bill Maher and Milo Yiannopoulos.
Photo: Janet Van Ham/HBO
Bill Maher is gonna Bill Maher. In an Esquire interview conducted before Maher used a racial slur on HBO's Real Time, the perma-contrarian revealed that he'd like to have the infamous alt-right troll Milo Yiannopoulos back on his show after a controversial appearance in February.
Now Maher says that he'd like to help rescue Yiannopoulos from his tumble out of the spotlight. "I actually want to have him back," Maher told me. "I don't think he would be that hard to bring around to a much more reasonable position." (Yiannopoulos says another appearance is in the works.)
Shortly after Yiannopoulos, who is permanently banned from Twitter, was a guest on Maher's show, a video surfaced of him appearing to endorse pedophilia. Yiannopoulos subsequently lost his Simon & Schuster book deal and resigned from his post at Breitbart. Maher took credit for bringing Yiannopoulos down, claiming "sunlight is the best disinfectant," but now it looks like he's ready to launch the troll's apology tour.