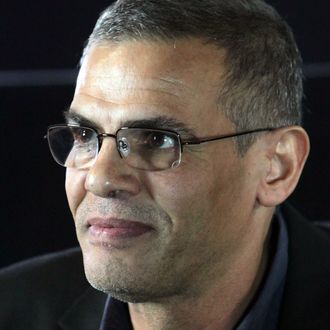 Abdellatif Kechiche.
Photo: David Buchan/Getty Images
Four years ago, director Abdellatif Kechiche won the Palme d'Or at Cannes for his film Blue Is the Warmest Color. Now, he's auctioning off that very coveted prize in order to complete work on his current film, Mektoub, My Love, according to The Hollywood Reporter. Mektoub was in postproduction when its financing bank suddenly halted its line of credit, causing the distribution company to set up a sale for "film memorabilia related to Kechiche's work." In addition to the Palme, the company, Quat'Sous, will also be auctioning off oil paintings from Blue. An NDA between parties prevents the actual amount of funds required to finish Kechiche's next movie from being released, and the director has not yet made a statement about why he's decided to sell his vaunted Palme, though given the long controversy that film was embroiled in at Cannes in 2013 and the director's own comments about wishing Blue was never released, perhaps he's quite ready to move on.
The money raised in the auction will go toward the two-part feature film, which tells the story of a man named Amin, who — somewhat humorously given this situation — gets involved in a love triangle during a summer vacation, and one of the women involved is the wife of a producer who agrees to finance his first film. Amin, a screenwriter, must then choose between love and his career. So, just maybe Kechiche is going super method and sacrificing his prized possessions to pay for his art? If he's also currently in a love triangle, we may have all the proof we need.