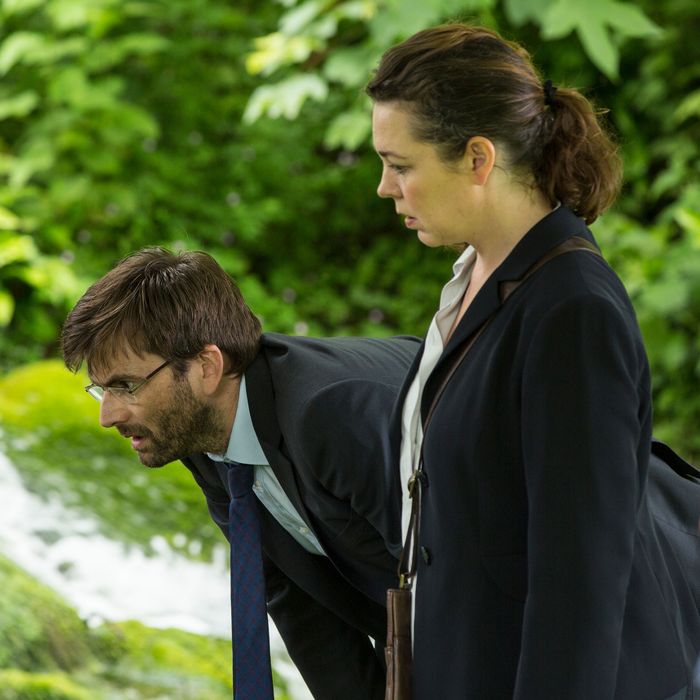 David Tennant as Hardy, Olivia Colman as Miller.
Photo: Colin Hutton/ITV
The third season of Broadchurch probably shouldn't exist. The first season, in which detectives Alec Hardy (David Tennant) and Ellie Miller (Olivia Colman) solve the apparent murder of 11-year-old Danny Latimer in a quaint seaside U.K. tourist village, was a well-plotted, well-paced, self-contained story. Unfortunately, it spun off into an inevitable second season that dealt with the court trial of the culprit, Ellie's husband. That huge misstep, combined with the ill-advised introduction of a figure from Hardy's past who arrives to wreak havoc, made for a bigger, louder season in all the wrong ways. After the swift cancellation of an underwhelming American adaptation, it seemed Broadchurch had run its course.
Yet, here we are. After kicking the tires, showrunner Chris Chibnall has opted to tell a third and final chapter before he moves his attention to Doctor Who, where he will at last succeed Steven Moffat as head writer. Consider it a return to form: Chibnall wants to right the wrongs before he ends Broadchurch for good. While the exploration of the Latimer murder was superbly handled — for my money, season one is one of the best TV mysteries ever — that story has already been told. Rather than drag it out any further, the focus now shifts from the plight of the Latimers to an entirely new case: the brutal rape of Trish Winterman.
Chibnall, his writers, and his actors understand that violent sexual assault is a storytelling minefield. The opening 14 minutes of Broadchurch season three are devastating, but never tasteless. We're taken through every step of Trish reporting her assault, as well as the trust and care she's given by Hardy and Miller. Still, it's uncomfortable viewing. It feels real. "We're going to swab your cheek," Miller says. "And the reason we do this first is basically so you can have a cup of tea." It's a soft, lame joke from an officer to a victim. It's only going to get worse from here.
It's hard to credit enough the efforts of Tennant, Colman, and series newcomer Julie Hesmondhalgh's work in this episode. Trish is, obviously, terrified and can barely get a word out. As Miller and Hardy gently pry with precision, it's clear the chemistry between Tennant and Colman hasn't missed a step in the two years since we last saw them together. The detectives work hard to afford Trish agency and dignity in the most horrifying circumstances, and don't make the equally dangerous mistake of speaking down to her, of hiding from the terrible situation Trish has faced and now faces for quite some time. Naturally, it's Hardy who pushes harder in the opening exchanges. "Were you tied up, Trish?" he asks pointedly when she can't answer if she knew where she was. She can't tell them how she got to the police station, whether she walked or drove. "I'm sorry," she says. "You have nothing to be sorry about," Hardy replies without hesitation.
Already this is a different Broadchurch. There's thoughtfulness and purpose, which is essential when telling a story with the weight of Trish's. Her first question, the first time she speaks without being prompted in the episode, she asks, "Do you believe me?" It's a heartbreaking moment that is a real concern among survivors, even when they've gotten as far as Trish has. Thankfully, the specter of doubt around whether or not the assault ever happened doesn't linger as a possibility. Broadchurch sometimes falls prey to its own salacious darkness, but Trish making a false claim would be nothing short of a tasteless betrayal.
Before taking her home, Hardy and Miller note Trish's injuries look at least two days old, and eventually date the assault to a 50th birthday party for her friend Cath, at which, Trish says, at least 50 men were in attendance. That's quite the suspect list. We do, however, get glimpses of early contenders. There's Jim, the husband of Cath, who curiously has the same brand of condom in his car glove compartment as the one found at the crime scene (along with a blood-smeared rock). Trish's boss Ed Burnett also looks a shady character, played against type by U.K. comedy legend Sir Lenny Henry. He's not quite as menacing as we're meant to think he is, but we've got seven episodes stretching ahead of us to figure this whole thing out.
Adjacent to the stellar main plot, Broadchurch does give in to some of its unfortunate soapier instincts. Two years on, we see Mark Latimer, the bereaved father of Danny, has written a tell-all book and hates himself for it. He's also separated from Beth, whose marriage to Mark never quite got out from under the cloud of their son's murder. Neither story line is all that interesting, but it's a joy to have Arthur Darvill back as Broadchurch's vicar, Paul Coates. Darvill is quietly one of the best actors on the show, and I'm assuming he'll get more to do as we progress. Less exciting is the shoe-horning of Beth into proceedings as Trish's independent assault adviser. It's an inorganic excuse to keep the flagship family closely involved in this final season.
On the bright side, one thing making a welcome return is the absolute delight of Miller and Hardy, who exchange barbs as ably as they do jokes. Tennant and Colman are consummate professionals, much like their fictional counterparts (when they're not discussing the origins of Hardy's office nickname, "Shitface," of course).
Another thread this season looks to be Miller's relationship with her son and father, who now lives with her. Olivia Colman is the most capable, wonderful actor Broadchurch has at its disposal, and Miller is easily Chibnall's best character. Chibnall knows it, too: Despite Miller's strong, sensitive detective work, we're not allowed to forget for a second the trauma of discovering that her husband was responsible for the death of a close family friend. "I will not have your father's son!" she shouts after Tom is found disseminating porn at his school. It's a dark, cutting line that underlines the show's main point of fascination, the connecting thread throughout its uneven run: the effect of horrific violence on communities and individuals — on the kind of people who say, "You never think it will happen to you."
The episode's final shot hints at things to come, as a gloved hand retrieves a bag of blue twine from the crime scene. Whether it's a forensics expert or indication of a cover-up is yet to be seen, but what's left when the credits roll is a dark, deeply responsible hour of television. We're off to a good start.