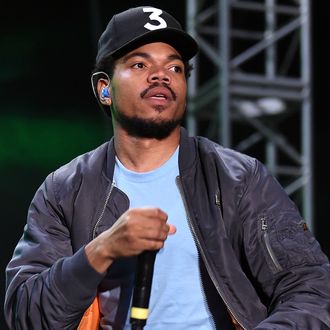 Chance.
Photo: Kevin Winter/Getty Images
In the past week, MTV News, which went on a hiring spree just over a year ago and seemed to commit to long-form journalism, has reversed course and pivoted to video. As writers and editors have left the site, news of turmoil within the company leaked out, notably in a report from Jordan Sargent at Spin, which goes into detail on the divisions between the old and new staff at the site, and crucially, the concessions made to higher-level Viacom executives, including deleting articles that were critical of talent the TV network wanted to book.
In the most glaring instance, Sargent reports that MTV removed a review of a Chance the Rapper concert from David Turner (which Turner has since posted on Medium) after Chance and his representatives threatened to cut ties with the network over the piece. "Upon the publication of the article, Chance and I got together & both agreed that the article was offensive," Chance's manager Pat Corcoran told Spin. "When we brought our concerns to MTV, our rep agreed that the article was 'a harsh shot' & took ownership of the editorial misstep. From there, MTV chose to, on their own volition, to remove the piece." In an odd aside, Chance's rep added that he "will be appearing in the season opener of Wild 'N Out tmw night (6/29) on MTV."
This was not the only concession made to artists' demands, according to Spin's report. In September 2016, the site removed a critical review of Kings of Leon's single "Waste a Moment" after the band allegedly reached out to MTV executives and threatened to drop out of the MTV Europe Music Awards. (Kings of Leon have not commented on the story.) The site then decided to stop publishing reviews under 500 words, "because executives at MTV associated those kinds of blog posts with snarkiness and criticism, both of which were deemed detrimental to the network's broader ability to work with artists who may be the subjects of such posts."
While all sites must consider how their coverage might affect access to talent, the concessions MTV News made greatly limited their coverage. According to Spin's report, the site's director of music Jessica Hopper told staff they would have to "nix" any writing on DJ Khaled "unless it's like, KHALED IS GREAT" while the network was trying to book him for projects, while MTV News editors also "spent part of this past New Year's Eve haggling line-by-line with a chart-topping, platinum-selling, Grammy-winning female pop star's publicist over a post in which MTV's editors eventually agreed to cut one sentence." Hopper reportedly told the staff that "from time to time" they would show articles to heads of music and talent departments to sign off in advance, a significant concession of editorial control. In response to these claims, the site told Spin it does not comment on internal matters or talent relations.