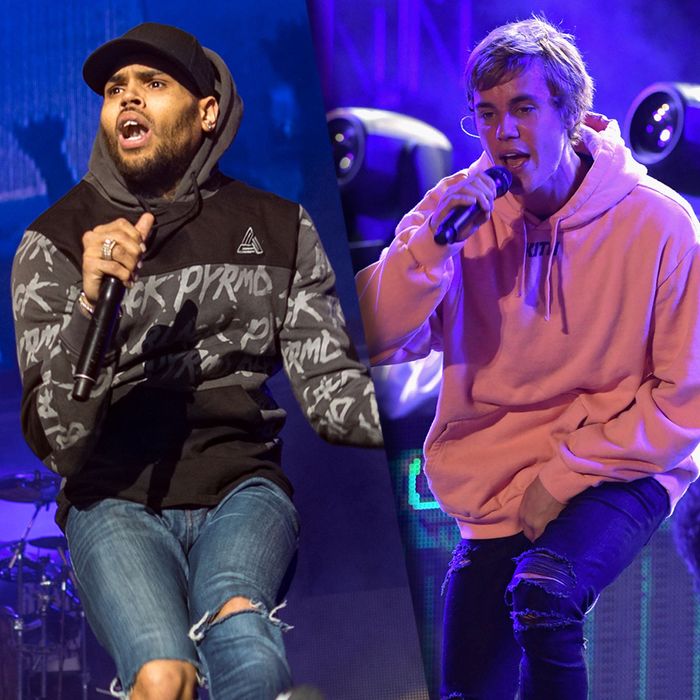 Chris Brown, left, and Justin Bieber.
Photo: Getty Images
Not that long ago, Justin Bieber was only a few mistakes away from becoming this generation's Vanilla Ice. Between Bieber's legal challenges, reports of him abandoning monkeys in Germany (Michael Jackson would never), rumors of substance abuse, and shots of him being carried across the Great Wall of China because apparently his legs stopped functioning, many were starting to write him off. It didn't help that he was increasingly being accused of being rude to his fan base, who rival only David Koresh followers and Beyoncé worshipers (she's certainly my lord and gyrator) in dedication.
In response to his increasingly soiled reputation, Bieber rather shrewdly spent a year making amends by way of conversations on Ellen, a Comedy Central roast, and online videos conveying the sweet sentiment, "my bad, yo." There was also that GQ profile that featured a quite candid Bieber acknowledging his mistakes, explaining, "Everyone, when they start growing up, realizes, 'Man, I did some dumb shit when I was younger.' It's not just me … If I could go back, I wouldn't really change much. I think it's all my journey. That stuff made me who I am."
Whether or not he genuinely matured or only cynically presented maturation to the public remains largely debatable. After all, Bieber seems to still be grappling with megafame given that within the last year he's punched a fan and stormed offstage. He continues to be apologetic when met with rightful criticism, so we'll see if he keeps his hands to himself and his body onstage throughout the concerts on his upcoming stadium tour.
However, the fact that he can even do a stadium tour is a testament to not only his growth as an artist, but being shrewd enough to temper the behavior that was increasingly overshadowing his work. In doing so, he managed to not derail his career, keep a sizable portion of the fan base he accrued as a child star, and ultimately expand on it as a bona fide successful adult entertainer. In addition to his apology tour, Bieber finally cemented a sound that works for him as an adult. It started with 2013's Journals, but his personal transgressions largely overshadowed his artistic growth. That's why Purpose was far more successful: He settled his debt with the public and gave them something to bop to in "What Do You Mean?" Bieber offered growth in terms of his image and the music behind it all.
Since the release of both those projects, Bieber has only extended his shining-shining-shining and added two additional No. 1 hits on the Hot 100 with features on DJ Khaled's "I'm the One" and the remix to Luis Fonsi and Daddy Yankee's "Despacito," which has topped the charts for four consecutive weeks.

Bieber may not remember his Spanish each time he performs the latter track, but I'm sure he and his label remember how that track and "I'm the One" have made him the go-to artist for a feature. That said, his voice, while pleasant, isn't necessarily remarkable enough to make him necessary to carry a song. The last time Bieber worked on the same track as Quavo it was for his Migos-featuring song, "Looking for You." It was okay, but no one heard it and instantly thought, This is the best pairing and they should keep doing this. Time has just been kinder to Bieber than other artists who once were more commercially viable for crossover success.
Now more than ever, I can't help but look at Justin Bieber's success and think, This could have been you, Chris Brown. It doesn't help that much of the material Bieber has released since 2014 sounds a lot like songs more suited for Chris Brown.
Apparently I'm not alone in thinking that Bieber's got better taste (and better handlers) than Brown, even if Brown is arguably far more gifted as a songwriter and entertainer.
Brown's life changed when he attacked Rihanna, and while a simple apology could never erase his monstrous act, he also became stagnant in his actions, both in and out of the studio. Yes, Brown has scored hits in tracks like "Loyal" and maintains a sizable fan base and share of "urban" radio airplay — both of which still keep him a headlining tour act — but he had the chance to move his career forward and recapture at least some of the crossover success he was building. That is all but gone, not only because he hasn't settled his personal demons, but because, musically, he's stuck.
When you listen to recent songs like "Privacy," they hearken back to "Loyal" and so many of the other singles that followed which also clearly chased "Loyal" in terms of subject matter and sound. The only major difference here is the odd insertion of "boom shakalaka."
Chris Brown's remaining fans may enjoy his retreads of his own songs, but when you reportedly don't listen to your crisis-management people (or even hire any) and don't work with new producers who can help build on your natural talent, you miss the opportunity to grow. And for all of the nonsense Brown has subjected himself to, he possessed a natural skill for creating chart-topping pop music, well-received R&B, and sometimes surprisingly convincing hip-hop tracks.
While Bieber being a white man affords him a bit of privilege that Brown will never enjoy, the streets aren't dying to hear Bieber's remake of Kendrick Lamar's "Humble." And now more than ever, music fans are suspicious of white people who step into subcultures they do not directly belong to. Justin Bieber succeeds because he grew up and carved a lane for himself, but he was able to enter that lane because Chris Brown failed to move in the right direction.