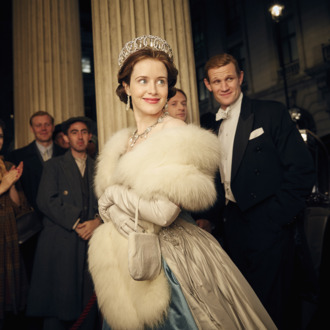 Photo: Robert Viglasky/Netflix
Last week, enthusiasts of the royal family were throwing their crumpets in the air in delight upon hearing news from a "senior royal source" that confirmed Queen Elizabeth II had watched every single episode of The Crown — and loved it. Look at that palace synergy! Cue the Pimm's party over at Netflix HQ! Well, the news has now reached the lovely actress who portrays the queen on the series, Claire Foy, and she's not totally convinced that Her Majesty has actually watched it. She needs some hard, indisputable proof. "I can't believe, I hadn't heard anything about it, and I will believe it when I see it is all I'll say," Foy told Vanity Fair in a recent interview. In short: Get her those receipts, you cheeky royal sources.

If the queen indeed did see The Crown, though, Foy would be interested in learning what the monarch took away from the historical elements of it. "I think she'd be interested in the coronation. I think she'd be interested in the royal wedding, and I think she would be interested in the retelling of Treetops and all those sorts of things," Foy continued. "The personal level of it, and seeing someone else act out your life, and act out your most painful moments of grief, or happiness, or fear, or triumph, or whatever, I don't think would be a very enjoyable thing, which is why I doubt very much that she's watched it." Hurry along with season two now, Netflix.