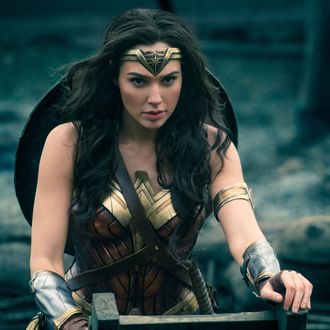 A still from Wonder Woman.
Photo: Clay Enos/Warner Bros. Pictures
No woman, no matter how wonderful, is safe from complaints from men. After Alamo Drafthouse announced a woman-only screening of Wonder Woman in Austin (and, after backlash online, added a few more), the theater chain has been subject to legal discrimination complaints, according to a report from the Washington Post. A city of Austin spokesman told the newspaper that multiple people filed complaints with the city's Equal Employment and Fair Housing Office, and that the city is reviewing and investigating the charges.
One charge comes from Stephen Clark, a law professor interviewed by the Post, who claimed that he was irked by theater's snarky responses to online objections. He's argued that the theater is discriminating against male customers on the basis of their gender and that, in promising to staff the events with female employees, it was also discriminating against male employees. According to an expert in employment law interviewed by the Post, however, it may be hard for Clark, or other complainants, to prove that employees suffered any damage from the screening as long as they didn't lose work because of them.