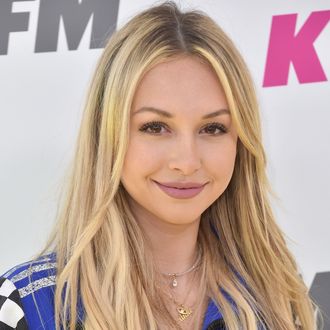 Olympios.
Photo: Frazer Harrison/Getty Images
The messy business of sorting out whether or not a sexual assault took place on the set of Bachelor in Paradise is winding down. Warner Bros. has completed its investigation into what happened the night DeMario Jackson and Corinne Olympios drunkenly engaged in sex acts that brought up questions about consent, and found that there was no evidence to support allegations of misconduct. The show has been cleared again to start filming, but it will go on without the two people at the center of the controversy. Jackson has already declined to return, and now Olympios has issued a statement doing the same:
In light of the overwhelming amount of misinformation that has been spread in the media, I want to clarify a few things. My intent over the past few weeks has been to learn and understand what happened on June 4. While I never filed complaints or accusations against anyone associated with Bachelor in Paradise, my team and I felt it was very important to be thorough in getting to the bottom of what had occurred. I felt victimized by the fact that others were judging me through conflicting and unsubstantiated reports, while I myself had no recollection of the events that transpired. 

 

My team's investigation into this matter has now been completed to my satisfaction. I am also happy about the changes that have been made to the production of Bachelor In Paradise. While I am extremely grateful for the opportunity to have been a participant on The Bachelor, and while I was invited to return to Bachelor In Paradise when production resumed, I respectfully made the decision not to return. I understand the media's interest in this story, and I greatly appreciate my fans' concerns for my well-being, but I think it is best if I keep any further thoughts private for now.
Jackson recently sat for an interview with E! News in which he defended Olympios against the "slut-shaming" she's experienced, and also said he thinks the incident was a product of "conspiracy." "It goes back to the very beginning when [Corinne] came up to me, hopped in my arms, led me to the pool. By now I'm realizing that I got played," Jackson said. "I'm not sure by who, but I got played."