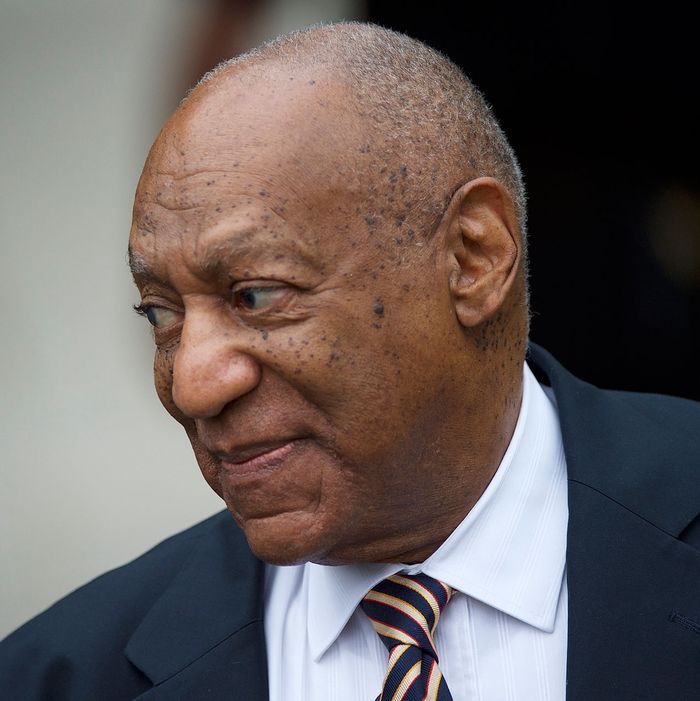 Cosby.
Photo: Getty Images
The only other Bill Cosby accuser whose testimony a judge has permitted at Cosby's trial for the alleged 2004 sexual assault of Andrea Constand has testified that Cosby drugged and sexually assaulted her in 1996. The second woman, previously known only to the public as "Kacey," but identified in court as Kelly Johnson, was the first witness to take the stand on Monday, the first day of the trial. She alleges that while working as an assistant to Tom Illius at William Morris, an agency that used to represent Cosby, Cosby was inappropriate with her. She recalled a particular incident in 1996 when Cosby asked her to come to his Bel Air hotel, bring him food, and "discuss her potential career as an actress." While there, she alleges he gave her "a big white pill" with the disclaimer, "Would I ever do anything to hurt you? Trust me, it will just help you relax." "I felt extremely intimidated," she said, claiming she failed to pretend to take the pill. Johnson said the pill made her feel "underwater" and she had to lie down on his couch.
The next thing she remembers, she said, was being on a bed next to Cosby with the bottom of her dress pulled up, and the top pulled down, exposing her breasts. She claimed Cosby took a bottle of lotion from the nightstand, lotioned her hand, and placed it on his penis. She said she does not remember going home. "I was very afraid because I had a secret about the biggest celebrity in the world at that time," Johnson testified, reportedly between "tears and gasps." "And it was just me and my word against his. I was afraid." When asked by the district attorney if she consented to this alleged sexual act, Johnson responded, "No, I didn't"; asked if she would have consented, she said, "No, I couldn't."
Johnson, now 55, also testified that there were several instances where Cosby, whom she met in 1990, "entreated" her to call him from her job and not tell her boss of their correspondence. On a separate visit to Cosby's Los Angeles residence, Johnson said he invited her over for "acting lessons" — though she says she never expressed interest in acting — and told her to play out a scene in which she was to act "tipsy," embrace Cosby, and kiss him. She said they did the scene six times, with Johnson refusing the kiss every time. She said the alleged assault in 1996 occurred at a later period, after she and Cosby didn't have much contact.

Following the alleged assault, Johnson said she overheard a conversation between Cosby and her boss in which Cosby "complained about her work" and "encouraged" her to be fired from the company. "She's ungrateful for all the things that have been done for her. She's a problem. You need to get rid of the problem," she said she heard Cosby tell her boss. "I hung up the phone and I was sitting at my desk with tears streaming down my face." Johnson, when asked by Cosby's lawyers, denied having a "relationship" with Cosby that violated company policy. According to documents cited by Cosby's lawyers at trial, Johnson had alleged that her boss and not Cosby was sexually harassing her and that she filed a worker's compensation claim against the agency. Johnson said on the stand that she "could not clearly remember the sequence of events at her workplace after the alleged assault." Johnson was eventually terminated from William Morris.

Prior to the trial, a judge ruled that only one other accuser aside from Constand could testify as a "prior bad acts" witness. The prosecution had wanted 13 other accusers. Johnson testified that she does not know Constand, who is expected to take the stand either Monday or Tuesday.