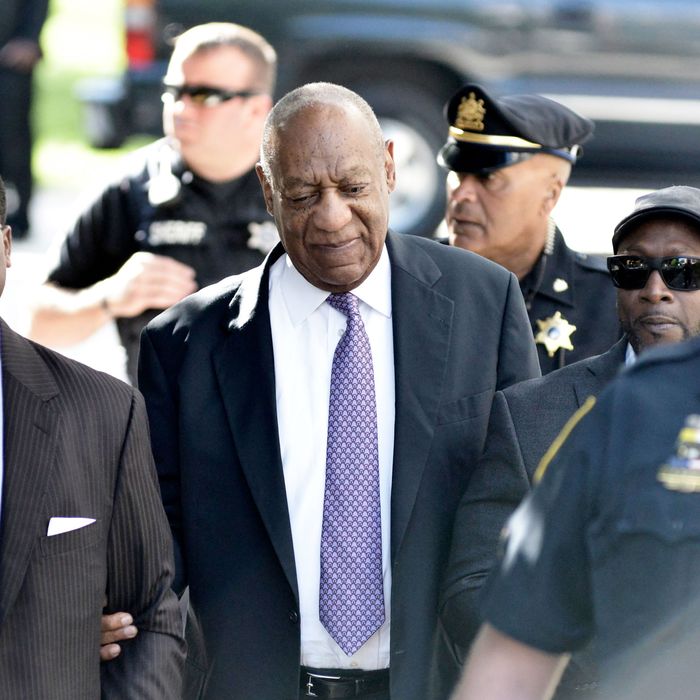 Bill Cosby.
Photo: Bastiaan Slabbers/NurPhoto via Getty Images
"Dirty old man." That's how Bill Cosby described the way his accuser's mother thought of him. During his trial at the Montgomery County Courthouse outside of Philadelphia today, the prosecution delved deeper into the sworn statements the comedian gave in 2005 and 2006. In them, Cosby admitted he was genuinely concerned that he was not only being recorded by his accuser's family, but that the public would find out he had sex with Andrea Constand, the woman at the center of the accusations.
"The mother is coming at me for being a dirty old man," Cosby told investigators in the deposition. At the time of the alleged assault, Cosby was 67 years old and Constand was 31. The two met while Constand was working as a sports director at Temple University where Cosby served on the board of trustees.
Their professional relationship came under closer scrutiny today when Dr. Veronique Valliere took the stand. Valliere, a licensed psychologist specializing in sex crimes in Allentown, Pennsylvania, painted a vivid portrait of what happens when someone of stature assaults someone in an inferior position. She said contrary to popular assumptions about rape, most sexual assaults actually occur between people who know each other and where there's an unbalanced power dynamic.
"Very often victims don't label what they go through as an assault," said Valliere. "And when there's an intoxicant, self-blame goes up." Valliere's expert testimony weighed heavily in the quiet courtroom. Would jurors reconsider why Constand may have repeatedly called Cosby after the assault? Would they rethink why she may not have fled the scene? Could today's expert witness actually end up hijacking the defense's claim that the sex acts were consensual?
Quite possibly. Valliere came across as not only smart and confident, but she connected dots that have been left dangling by both the defense and prosecution up until now. Without naming names and through several objections by the defense, Valliere all but confirmed that Constand's behavior after the assault was prototypical. She said it's not only common for a victim to reach out to her abuser, but she may attempt to find out what happened and why. In fact, many victims even try to rebuild a relationship with the abuser, particularly if he was a mentor or father figure, which is exactly how Cosby described his relationship to Constand.
Add fame to the scenario and things become especially complicated. "In a case where an offender has status," said Valliere, "[the victim] may get a lot of backlash from the community." Several of the women who have accused Cosby of rape over the years have said that they, too, were afraid to go public for fear of being labeled, judged, and even blamed for destroying the image of the ultimate television father, a character many of us grew up with and admittedly loved.
The real-life man behind the TV show fidgeted during the testimony, leaning over to his defense team and whispering. At one point, he turned away from the witness stand toward the audience. It's unclear whether Cosby's compromised vision allows him to see either the audience or the jury, but his movements were noticeable, even more so than this morning when a detective read portions of a statement that seemed to have made him uncomfortable. In it, Cosby admitted to investigators that he offered to pay for Constand's education, and that he did so out of fear of reprisal, that the story would ultimately go public and ruin him.
During a transcript of a phone call that was recorded by Constand's mother, Cosby turned defensive. "Tell your mother about the orgasm," he said, later claiming he told Constand's mother that they didn't have intercourse, but he simply penetrated her daughter with his finger.
Later when Valliere was on the stand, she noted that an abuser typically denies allegations or perverts them in hopes of confusing a victim or making her feel shamed. But as the testimony continued, the big question remained whether jurors will connect the same dots. Will they see Cosby as a predator who used pills to have his way with a woman who wouldn't have consented to his advances? Or as a fragile old man, a victim of a plot to undermine his reputation and lay claim to his fortune?
If the jury put any credence at all in today's expert testimony, the defense should be worried. "Devastation," said Valliere, "doesn't happen in the moment. It happens over time."