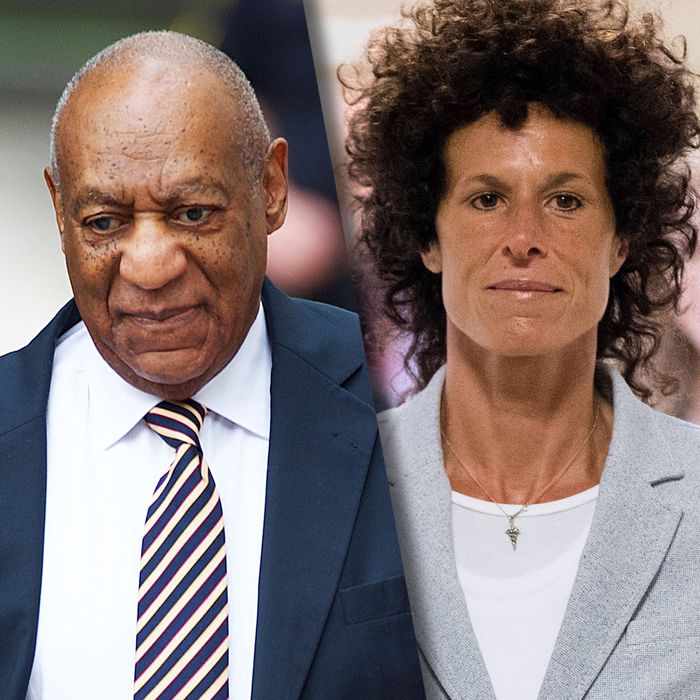 Bill Cosby and Andrea Constand.
Photo: Getty Images
Bill Cosby's words were used against him this afternoon at the Montgomery County Courthouse in suburban Philadelphia. After the defense shocked the court by resting its case after only one witness, the prosecution made closing arguments focused on Cosby's statements to investigators more than ten years ago. Though the 79-year-old comedian denies drugging and sexually assaulting Andrea Constand in 2004 when she worked at Temple University, he could face up to three counts of felony aggravated indecent assault with a maximum sentence of ten years, and fines of up to $25,000 per count.
Since the trial started one week ago today, Cosby never took the stand. Instead, his attorneys spent most of the trial painting Constand as an unreliable witness, a troubled person, and a woman seeking to ruin the comedy legend's reputation, even after dozens of other women have come forward accusing the entertainer of rape spanning at least four decades.
"This ain't right!" yelled defense attorney Brian McMonagle, who accused Constand of telling "a stone-cold lie." He delivered his closing statements with the vigor that's come to be expected from the brash Philly attorney, suggesting that Cosby's accuser was a "lover" and not a victim.
By the afternoon, prosecution hammered home the glaring consistencies between both Constand and Cosby's stories up to but not including the type of pills that were administered by Cosby on the night Constand says he sexually assaulted her. According to testimony, Cosby referred to the pills in question as "friends," and encouraged Constand, an athlete who's normally averse to taking medication, to try them. "They're your friends," he allegedly told her.
Constand told the court last week that after she ingested the drugs she was unable to move or fight back in Cosby's suburban Philadelphia home. The comedian later told investigators that he remembers giving the then-33-year-old over-the-counter Benadryl tablets to help her "relax." He said that after she took the pills, she and Cosby engaged in "heavy petting" on the sofa in his living room.
Cosby admitted in a sworn statement that Constand neither objected nor gave permission for the sexual activity that he admitted occurred that night. Constand said she awoke to Cosby inserting his finger repeatedly into her vagina and putting his penis in her hand, and that she had rebuffed him twice before. The prosecution says that if someone is unconscious or unable to react to sexual advances of this kind, it's rape.
"He has told you what he has done," the prosecution said today. "It's about as straightforward as you're going to get in a sex crimes case." D.A. Kevin Steele also told the jury that Constand, who was sitting in the front row of the court today, had "courage" to come forward, even after she had been painted as a liar.
But what could perhaps be the most revealing statement that prosecutors spotlighted again and again to the jury came from Cosby's sworn statement to investigators. When Cosby was questioned about the night of the alleged assault, he told police that he did not have sexual intercourse with Constand, either "awake or asleep."
"Who says that?" asked Steele, who proceeded to critique the comedian's attempts to pay off Constand after he got worried that she may go public. During a taped phone call that was broadcast in the courtroom, Cosby's recognizable voice can be heard offering to pay for graduate school in addition to travel expenses and a meeting with a talent agent. Constand did not accept any of the gifts.
Citing a settlement between Cosby and Kelly Johnson, a former William Morris assistant who accused the comedian of drugging and sexually assaulting her in 1996, Steele said that Cosby has a history of trying to cover up his assaults. When Johnson testified last week, she broke down on the stand, saying the pills Cosby furnished made her feel like she was "underwater." She was later fired from the agency and no charges were brought against Cosby.
Throughout the closing statements, Cosby leaned forward a few times and shook his head, but mostly he maintained his poise, seated and sometimes staring off at the judge's bench and ceiling. He occasionally whispered to his defense team as his wife, Camille Cosby, looked on from the courtroom with a clenched smile. Today is the first day she has appeared by his side in court since the case started last week.
Steele was adamant that the prosecution proved beyond a reasonable doubt that Cosby is guilty of raping Constand. "Based upon [Constand's] testimony alone you must convict," he said. "He is definitely guilty of all three aggravated indecent assaults."
In a surprising move, Steele also admonished the Montgomery County D.A.'s office for not bringing charges against Cosby sooner, saying it was a "failure." Cosby's fate now rests in the hands of the jury, as they begin deliberating.