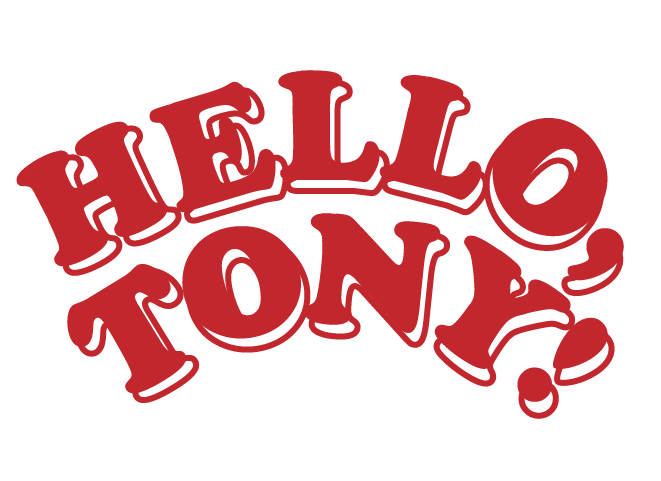 For all the unfortunate people who who didn't see the Broadway revival of The Color Purple, or who just aren't familiar with Cynthia Erivo yet, I offer you a crash course in what makes her a star. When Erivo performed at the 36th annual Kennedy Center Honors last December, she was captivating from the moment she took the stage — her dark skin contrasted by her trademark short, white-blonde hair and a cream-colored-lace floor-length skirt and crop top, she appeared to be glowing. Then she opened her mouth and sang "The Impossible Dream" from The Man of La Mancha. Her voice is like silk, or maybe it's like butter or cream — whichever is the smoothest. Erivo makes the song her own with a range of bends and quick tonal shifts that display her vocal dexterity, without being showy. Her voice is clear — I wouldn't call it a belt, there's such a lightness to it – but, man, does it pack power.
The camera pans through the audience up to a box where Barack Obama is rapt, his eyes fixed on the stage. Aretha Franklin is nodding her head approvingly. Gayle King's eyes are closed, and she's leaning to the side and singing along. All of them look like they've caught the Holy Spirit. This is not an exaggeration. There is video. Apologies for the internet-ism here, but get you someone who looks at you the way all of these people looked at Cynthia Erivo for the few minutes she sang.
Much has been made of Erivo's voice, but that's not what made her turn as Celie in The Color Purple into the sort of performance that earns you a Tony, an Emmy, and a Grammy. It's the way her face opens when she sings, the subtle, muscular physicality of the role (Erivo's Instagram is a tribute to how much she loves a kettle-bell session), and the joy that pulsed through her even as her character moves from downtrodden to triumphant. She brought the house down almost every night.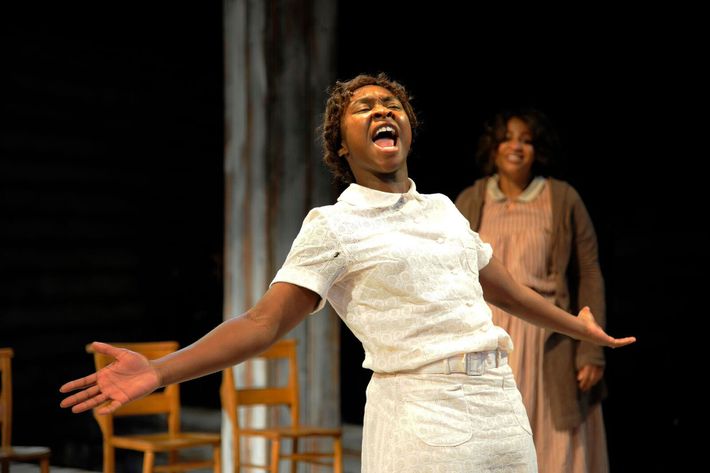 The 30-year-old star has been working nonstop since the Broadway revival of The Color Purple closed in January, and while she's technically working now — she's currently in Chicago, in early rehearsals for Steve McQueen's heist film, Widows, alongside Viola Davis and André Holland — it's the first time since 2015 that her schedule has allotted her a regular day off on the weekend. There have been the aforementioned obligations, but also awards ceremonies (she's one letter away from mythical EGOT status), benefit concerts, performances in front of the Obamas and Oprah, flashy front-row occupancies at New York Fashion Week, and a Met Ball appearance for which Thom Browne dressed her. After Widows, there's another movie role: Seith Mann's 2018 Harriet Tubman biopic. I'll let you guess who she's playing.
"I still think people think I'm lying about all this," Erivo jokes. "The only reason they don't is there's like picture proof of what's been going on. It just sounds like something out of a dream, really, to get this incredible role and have all of this happen because of it."
It's sweet to hear Erivo demure about her current flood of opportunities, but she knows as well as anyone who's witnessed her talent that this is not a "pinch yourself" situation — it's a sit back and acknowledge all of the breaks about to come her way after a career-making performance. Will she be a movie star (with Widows and Harriet, most likely) or will she continue on to become a Broadway legend like the LuPones, Peters, and McDonald's of the world? Would she throw it all away and make a bid for pop stardom? (She could, with that voice.) No matter which avenue she chooses, Erivo is about to be catapulted into the next stratosphere of fame.
She agrees, humbly, but she agrees: "At this point, I know I'm really, actually meant to be doing this. With all the things that happened because of this one show, I can't really ever question it again."
It's unclear if she has ever questioned it. Erivo claims there was a single moment when she was 14 or 15 years old: She was singing and performing, but because none of her peers were, it didn't seem like something she should take seriously. "I just became embarrassed about it, really and truly, and I didn't think it was a conversation I was allowed to have, that this was a viable career," she says. That phase didn't last long — she was acting in a production at the Young Vic theatre in London that same year.
"I think that's probably my mom's fault because she just never gave me a reason not to be confident," Erivo recalls. "I don't believe that many things are impossible to achieve so long as you put your mind to it and take the time to get it done." The actress, whose parents are Nigerian, was born and raised in London.
"She provided us with everything that we could possibly need to be well-rounded kids, and I don't remember ever hearing her say I can't do something," she says of her mother, Edith. "It was quite the opposite. She seemed to know the arts was where I was headed before I did, so the moment I uttered the words myself, the moment I said to her, 'I want to be an actress, I want to sing,' she said, 'Well great, you just have to work really hard then.'"
Erivo's first serious role was at age 11, in a production Bertolt Brecht's The Caucasian Chalk Circle. By 15, she was starring as Juliet in a youth production of Romeo and Juliet at the Young Vic. "That was the first time I was able to access my emotions and to cry onstage," Erivo says. It was a turning point for her, the moment she knew she had something. "I shocked myself. I didn't know I could access a part of myself that made me feel the way you have to feel before you start crying. It happened and I remember thinking, gosh, I just did that."
Eventually, at 20, while she toiling away at the University of East London, she reconnected with her director from the Young Vic, who encouraged Erivo to apply to acting programs. She did: to the Royal Academy of Dramatic Art — the best acting program in the U.K. — and nowhere else.
"I remember working really, really hard to do the audition, and I don't think I even dressed up for it," she says. "I went in slacks and a long-sleeve T-shirt and I had a long head scarf on." She did one of Hermione's monologues from A Winter's Tale and sang a "It's a Fine Fine Line" from Avenue Q. And while she demonstrated all of the qualities of a performer destined for actual success and probably stardom, Erivo doesn't think that's what got her in. "I think they had seen someone who just was like, this is what I've got for you and I'm not going to sugarcoat anything or cover anything up," she explains. "Again, that's confidence coming up, like, I can only give you me, so I'm going to give you me."
Naturally, she got in. But as one of only four black students in a historically, overwhelmingly white program, she found that most teachers pushed her toward the stereotypical "strong black woman roles," Erivo recounts. That all changed when she met Dee Cannon, her longtime acting coach and mentor, who recognized the vulnerability and rawness that defines Erivo's performances. "She saw that the path I was on was these strong roles," Erivo explains, "when actually I needed to understand that I was allowed to play characters that had vulnerability." Like Celie.
Director Seith Mann saw one of Erivo's performances in The Color Purple, as did Hillary Clinton and Aretha Franklin. Of the three, Mann's viewing was the most crucial. He's directing Harriet, the 2018 Harriet Tubman biopic, and Erivo's name had come up during an initial conversation about casting the lead role. While Mann was struck by her physical similarities to a young Harriet (at five-foot-one, she's roughly the same height and has a similar stature and muscularity), he had yet to see the show.
"I heard she was incredible, but for a project of this importance, I needed to see it for myself," Mann recalls. "Before I saw it, a writer of mine told me, 'There is going to be a moment in the play where you're going to find yourself on your feet, you're not going to know how you got there, and you're going to be clapping and crying. And you're going to look to your left and your right, and everybody is going to be doing the same thing.'"
Mann was skeptical, but then he saw Erivo as Celie and found himself clapping and crying along with everyone else. "She just commands that stage," Mann says. "The power she had was the kind of power that Harriet had."
After a Skype call, during which Mann says he got the full wattage of Erivo's charisma, magnetism, and smile — despite the fact she was Skyping him from the back of a cab — he knew he had his Harriet. He cast her almost immediately, and production on the film begins in the fall. There was no audition.
McQueen has a similar story. He saw Erivo in the show and set up a lunch with her to discuss his forthcoming film, Widows. Three weeks later she had the role of Belle — the widow of an armed robber who steps in to finish the heist — without an audition. "I was flabbergasted because I was fully expecting to have to read or audition and that didn't happen. It was easier than I expected, to be honest," she says. "I was like, oh, okay, okay, that's what we're going to be doing. Good, okay. See you soon!" (She's telling me all this matter-of-factly, by the way, as if she was surprised at the ease of the casting process, but not surprised she got the parts. She's not, because she's working very hard.)
Erivo believes in building each performance from the ground up. Every part she takes starts with a perfume — a sense memory thing that helps her fully embody the character. For Celie, Erivo wore an oil she found in a hair salon — it smelled like wood and sage. Right now, she's searching for the right perfume for her Widows character. She hasn't found it yet, but she imagines it's something sweet.
Erivo treats her entire career with that same sort of detail and diligence. She's committed to a self-care routine that's wellness-newsletter worthy. She lists off her daily schedule: wake up at 6:30, a training session at 7 a.m. (She's seriously in shape — like run a half marathon and then perform two live Broadway shows in shape.) Then it's breakfast at 8:30, followed by a snack later on. "It's not like a new sad thing that I'm doing," she says, interrupting herself to explain why discipline is so crucial to her success. "It's just something that has to be part of the life that I want to live. A lot of my friends would say I like a pattern. I want to know what I'm doing so there isn't any room to falter. I'm very front-footed, and if I want to do something, I'll find a way to get it done and if that were ever to stop, I think it would kill everything. It would stop me from being able to do the things I want to."
I ask Erivo how she wants people to think of her. I'm gently trying to get her to say how famous she expects to be, but she, again, demures. So I ask Mann during our conversation.
"Listen, I love to be contrarian when I can, but I can't even imagine a different scenario for Erivo," he says. "I'm not some mad genius to recognize that her work is undeniable. Whatever roles she has that expand the base of creators and filmmakers and writers and directors who are familiar with her and know how talented she is, it's just going to take off from there. She will be considered one of the great actors of our generation."
If you take stock of everything Erivo has going for her right now, Mann's bet is a safe one. She has all the makings: the Broadway esteem (even Lin-Manuel Miranda is a fanboy); Anna Wintour's cosign; and she's a member of a girl squad that feels like a corrective the characteristics of Taylor Swift's (very white, flimsy feminism, mostly for the 'gram) but just as fun to watch. She counts Chewing Gum's Michaela Coel, Lupita Nyong'o, and Issa Rae as friends, peers, co-conspirators, and car-karaoke backup singers.
"We expect a lot of each other," says Erivo. "We're constantly asking each other, how do we better our situations, how do we create spaces for people, how do we make sure that the example we set is a good one, what can we do to further ourselves and each other? We're rooting for each other."
Are you planning on taking over the world together?
"We have those conversations, yes," she jokes.
I ask Erivo again how she wants to be perceived in this industry, and where she wants her path to take her. She begins modestly.
"I would like them to think of someone who values the quality of work and is ready to be thrown in at the deep end almost every time," Erivo says.
She pauses, then adds: "I'm sort of ready for things to be enormous."