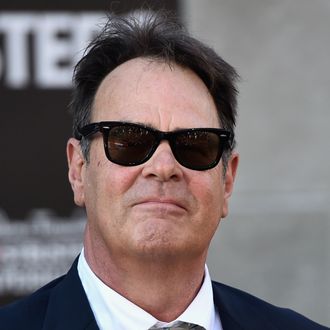 Photo: Alberto E. Rodriguez/Getty Images
2016's Ghostbusters reboot created a flashpoint bigger and brighter than that portal to hell that opened up in Midtown last year. Now Dan Aykroyd is crossing streams with the film's director Paul Feig, but not over the content of the movie itself; Aykroyd has repeatedly expressed how much he enjoyed it. Instead, according to The Hollywood Reporter, the original Ghostbusters star claims Feig ruined any chance the reboot had at getting a sequel by blowing out the film's budget on reshoots.
In an interview on Britain 4's Sunday Brunch, Aykroyd complained, "The director, he spent too much on it and he didn't shoot scenes we suggested to him. Several scenes that were going to be needed, he said, 'No, we don't need them.' And then we tested the movie and they needed them, and he had to go back — about $30 to $40 million in reshoots." As a result, Aykroyd said, Feig "will not be back on the Sony lot anytime soon." Despite earning $229 million with a $144 million budget, Ghostbusters' box office was roundly considered a disappointment at the time, making a sequel unlikely, despite early intimation from the studio that a Ghostbusters 2 would soon be in the works. "It made a lot of money around the world, but it just cost too much, making it economically not feasible to do another one," concluded Aykroyd. Feig has yet to respond to Aykroyd's claims, just as the mayor's office yet to propose an alternate solution to all these Slimers tormenting the city's hot-dog carts.