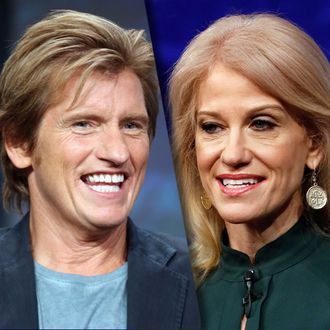 Twins.
Photo: Frederick M. Brown/Getty Images; Aaron P. Bernstein/Getty Images
Yes, Denis Leary knows he bears an uncanny resemblance to Trump adviser Kellyanne Conway. A few months ago, when someone on Twitter pointed out the striking similarities in bone structure between the brusque Irish comic and the upbeat Trump spinmeister, Leary's fans immediately asked him to do an impression. Leary replied that he'd love to impersonate the spokeswoman; Jimmy Kimmel even reached out to Leary and invited him to do the impersonation on Jimmy Kimmel Live.
"Kimmel was like, 'You've got to do it,'" Leary told Vulture today during the annual BookExpo conference at the Javits Center. "But I have selfishly just sort of been hoarding the idea. What if I did do it? Why should I waste it on Kimmel?" Leary, who was at BookExpo to promote his new book, Why We Don't Suck, tells Vulture he's saving the act for a bigger stage like dinner theater or a musical.
Watch Denis Leary discuss playing Kellyanne Conway at BookExpo.
"Kimmel's idea was to put me in the full dress and wig and makeup and I would be me, dressed as Kellyanne," Leary said. "I think Kimmel is right, that is the way to do it. It also makes it easier for me. And if my career does go down the toilet and I end up doing the Kellyanne one-woman, one-man show as dinner theater, I don't have to worry about doing the voice."
But who would play the part of Kellyanne's husband, George? Leary says he'd like to recruit Jon Stewart.
"Jon Stewart isn't doing anything so he could play my husband — he is just chasing pigs around," Leary said. "It would be Jon Stewart and Denis Leary, as the Kellyanne Conway story — Mr. and Mrs. Kellyanne Conway. I can sing, he can't, but that's okay. I'll cover the songs."
Leary added that he hopes the part would be "my Oscar, my Emmy, and my Tony." Here's to that.