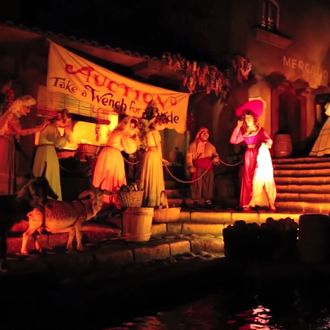 Pirates of the Caribbean.
Photo: Youtube.com/ThemeParkHD
Now that Pirates of the Caribbean has become perhaps their most internationally recognizable franchise, Disney has decided that maybe it's time to do something about the whole "selling women" part of the classic ride. "From introducing characters from the film saga, to the technology and story enhancements, changes to our attractions are done in the spirit of moving forward what Walt Disney inspired. We believe the time is right to turn the page to a new story in this scene, consistent with the humorous, adventurous spirit of the attraction," amusement park spokesperson Suzi Brown said about Disney's decision to edit the ride's "bride auction" out of Disneyland, Walt Disney World, and Disneyland Paris next year. The scene features a number of visibly distraught women being offered to the highest bidder; the scene's prominently featured redheaded "bride" will be transformed into a pirate herself, a career boost if there ever was one. Looks like your children will have to learn about wenches from some other, less wholesome theme park ride over their summer break.