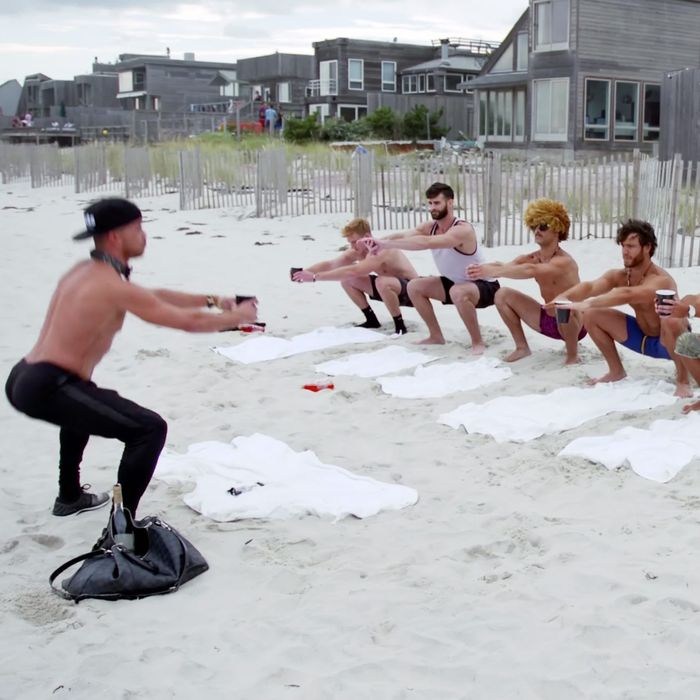 Just as our summer begins, the summer on Fire Island comes to a close with this week's season finale. We pick up right where we left off: Patrick and Cheyenne are screaming at each other, Chris is sobbing, and Jorge is pissed off that they've ruined dinner. No, they're not midway into a household reading of August: Osage County, however that's fully something I'd do if I were in a house with my friends on Fire Island.
The fight escalates to everyone going their separate ways and presumably binge-drinking in privacy, because the next morning everyone seems at that level of hungover where even your toenails hurt and you're so dizzy that you can't wear a plaid shirt because the pattern might make you throw up. Same goes for argyle. Pinstripe is usually safe, though.
Justin's boyfriend Austin arrives and Justin has made T-shirts with Austin's face on them to surprise him. Everyone plays along, but it's definitely one of the weirdest things I've ever witnessed a group of adults do. And I've spent a weekend with Nicolas Cage, David Lynch, and Twyla Tharp! Not really, but you get my point and also wouldn't that be exhausting?
Everyone follows Cheyenne to the beach where he's going to lead them in a workout. If a group of people I was staying with even suggested we all work out together first thing in the morning, I'd be on hotels.com quicker than you can say non-smoking king-size suite as far away from the ice machine as possible.
Patrick goes to the workout wearing a wig because, as he puts it, the whole idea is so phony he has to come in character. The wig itself looks sorta like that Tina Turner one that Oprah wore on and off in the mid-'90s. Cheyenne's workout includes "emergency rosé" and his butt looks good in his pants, so he's starting to grow on me.
At sunset, Khasan and Jorge drink more rosé (we get it, all of you guys are extremely gay) and watch the sunset. They discuss Khasan moving to New York, which he's decided to do. Khasan surprises Jorge with Fabio, who arrives on the beach with flowers. As Jorge and Fabio embrace, Khasan unhappily drones, "I'm so happy," as he hoists the bottle of Whispering Angel to his lips before leaving the happy couple to be alone.
Meanwhile, Austin, Justin, and Brandon have gone to have drinks with older gays that Justin knows. They talk about the history of the island and gay culture overall. It's cool of the producers to include these moments in the show, even though they're not very dramatic, since they put just how far we've come into a lovely perspective.
Back at the house and privileged generations upon privileged generations later, Patrick fuels the fire in his feud with Cheyenne as he takes Brandon into the other room to say he thinks it'd be a disservice to Cheyenne to not make him confess to his boyfriend that he's been unfaithful. Brandon obviously doesn't want to get involved because apparently he's the only person who is not insane around here.
Cheyenne comes into the room and the sparks fly. Brandon is as uncomfortable as I am and I'm the one watching this in plain view on my laptop in a Starbucks. The fight ends with Patrick shouting, "For once in your life be honest" to Cheyenne, a person he has just met (at most) six weeks ago. They go back and forth accusing each other of being bored (no clue why), exiting the room with "You're bored," "No, you're bored," "No, you're bored." No, fellas, I'M bored.
In the living room, Cheyenne tells everyone what's going on, which visibly upsets Kyle. Patrick eventually returns and the fight continues, with his insisting they stop these "schoolyard conversations." Which raises the question: What the hell were you talking about in YOUR schoolyard? It comes out that Patrick's hot friend Alex did sleep in the room with Cheyenne, but they didn't hook up, which seems about as believable as Queen Latifah in that Steel Magnolias remake.
Kyle and Cheyenne go off to talk through everything behind a closed door, but their mics are still on so we hear their whole conversation. It basically boils down to "What the hell happened with that guy?" and Cheyenne groaning a lot. Justin tells us that no one could have predicted this is how the night would end, but I beg to differ.
The next morning, they move slowly and carefully about, like victims of a terrible storm. They decide to put last night behind them until Patrick and Chris arrive. When they do, Patrick immediately brings it all back up, apologizing for making it into a whole house ordeal, or as we call it in Hollywood, "a scene on a reality show that you've all agreed to be on."
Everyone goes to the Pines Festival to watch Betty Who perform Khasan's choreography. He's done a great job and Betty Who is a delight to watch. They basically include the entire performance, which is fine, but if we're killing time I'd love to check back in on that wig Patrick was wearing. This scene essentially serves as our grand finale and there's something about it that, like so many things on Fire Island, is rather infectious. In this case, it's the good kind.
Eventually, they head back to the house to pack up and say their good-byes, before an aerial shot shows the sun setting on that little strip of land they've called home all summer, a little island in the Atlantic that once upon a time somebody looked upon and was like, "You know what would make this place even better? Gay people." And like the end of summer always seems to feel, it's bittersweet.
I've really enjoyed this show and writing these recaps. It was a strange experience for the obvious reasons, but entertaining and oddly cathartic at the same time. As with everything, there have been many negative things said about Fire Island and these recaps have included a bounty of sassy comments and disses, but at the end of the day, I think this show was a lot of fun. Sure, it might not depict the gay person you are, or that I am, or that your son is or friend is or whatever. But it depicted six different gay people living an open and mostly happy life. Even if you don't mesh with this show, that is something we need to see more of. In all different mediums, tones, genres, and forms. If gay people on television are going to be equal, we need our guilty-pleasure reality filth just as much as we need the intellectual and enlightening stuff. So, for that, I say, good job to all involved and God, I hope there's a season two.