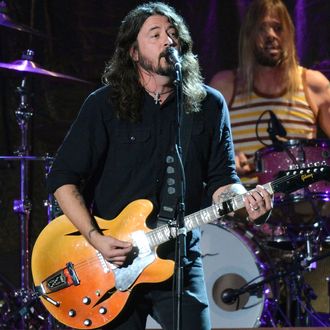 They faked their hiatus.
Photo: Scott Dudelson/Getty Images
As it turns out, Foo Fighters headlining Glastonbury this year really is just a courtesy to make up for Dave Grohl's broken leg forcing them out of the slot two years ago. They don't even need Glastonbury — the band just up and made their own music festival. Foo Fighters have announced that they faked that whole hiatus and are so sorry, but they actually spent the time making their new album, Concrete and Gold (out September 15), and, yes, creating a daylong festival called Cal Jam that they will obviously also headline on October 7 in San Bernardino, California. Queens of the Stone Age (who are also back!), Liam Gallagher, Cage the Elephant, the Kills, Japandroids, and more are all set to play the inaugural festival.
In a statement, Grohl says the idea for the festival came from the band's excitement to debut their album live in a "backyard party for 50,000 people," and to also re-create the "spirit of the original California jam." There'll be camping, carnival rides, a water park, a mobile recording studio, an outdoor movie theater, and general debauchery. Notably, Grohl says the new album marks the band's first-ever collaboration with superstar producer Greg Kurstin (the man responsible for most of Adele's 25), a meeting of two unlike minds (Kurstin mainly works with pop acts) that Grohl says resulted in an album that sounds like "Motorhead's version of Sgt. Pepper … or something like that." Which explains why its first single "Run" was so impossible to describe.