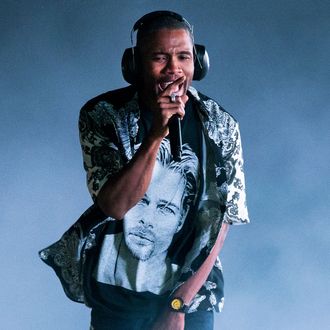 Photo: Visionhaus#GP/Corbis via Getty Images
Not enough can be said about Brad Pitt's taste in music. (Remember his Bon Iver/Waylon Jennings phase?) When he sat down with GQ Style in May, he shared more favorites he has in heavy rotation, revealing that he's big into Marvin Gaye's divorce album, and was a big fan of Frank Ocean's Blonde. "I've been listening to a lot of Frank Ocean," Pitt told the magazine. "I find this young man so special. Talk about getting to the raw truth. He's painfully honest. He's very, very special. I can't find a bad one." That one quote has ballooned into a beautiful mutual-stanning, according to The Fader: During his performance at Parklife Festival in Manchester, U.K., Ocean wore a T-shirt with Pitt's face on it.

Though Frank Ocean has been curiously busy lately, we formally request a buddy comedy, or at least the Pitt-Ocean curated playlist we deserve.