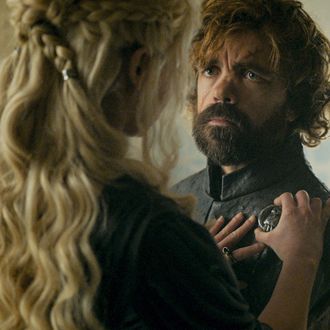 Someday winter will come.
Photo: HBO/HBO
As we inch ever closer to the July 16 premiere of the shortened seventh season of Game of Thrones, it seems that the eighth and final season is moving further and further away. In a new interview with Entertainment Weekly, HBO programming president Casey Bloys revealed that the network is letting showrunners David Benioff and D.B. Weiss take all the time they need to refine the last installments of the show, which might not air until two years from now. "They have to write the episodes and figure out the production schedule," Bloys said when asked whether they show will air in 2018 and/or in 2019. "We'll have a better sense of that once they get further into the writing." Jeez, just let winter come already!
Elsewhere in the interview, Bloys discusses how HBO is hard at work developing potential GOT prequels, but that those won't hit the air until a while after the series finale. He also promises that the final seasons will be especially "cinematic," which is something we've heard a lot about before.