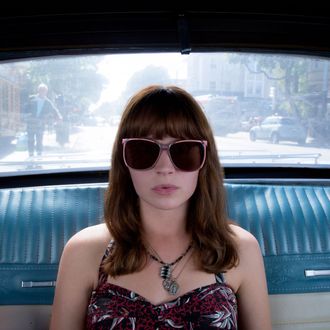 Photo: Karen Ballard/Netflix
The boss has gotten the pink slip. Netflix sneakily confirmed while we were all in bed last night that its comedy series Girlboss has been canceled after one season. The news comes weeks after the streaming giant unveiled plans to be a bit more ruthless with canceling its various series, which was evidenced by the swift axing of Baz Luhrmann's The Get Down and the Wachowskis' Sense8. But while those two shows likely suffered from high production costs, Girlboss's critical panning likely was a factor here.
Nasty Gal founder Sophia Amoruso, whose early life in San Francisco served as the inspiration behind the fashion series, also shared her reaction to the news on Instagram to express her annoyance with the decision. "So that Netflix series about my life got canceled," she wrote. "While I'm proud of the work we did, I'm looking forward to controlling my narrative from here on out. It was a good show, and I was privileged to work with incredible talent, but living my life as a caricature was hard even if only for two months. Yes, I can be difficult. No, I'm not a dick. No, someone named Shane never cheated on me. It will be nice to someday tell the story of what's happened in the last few years. People read the headline, not the correction, I've learned." Viva la Nasty Gal.