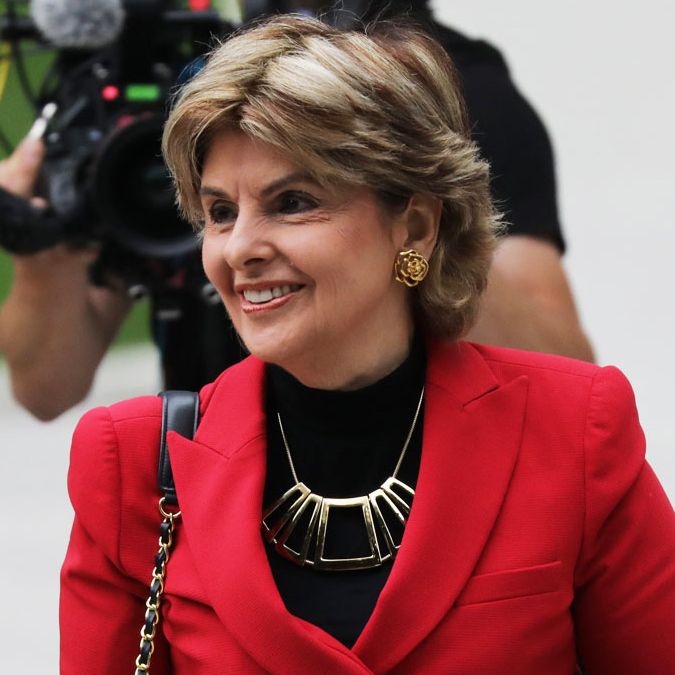 Gloria Allred.
Photo: DOMINICK REUTER/AFP/Getty Images
"You don't know what a jury is going to do," said Gloria Allred, a civil-rights attorney representing 33 women who have accused Bill Cosby of sexual assault. Allred, who's perhaps best known for taking on high-profile cases involving women, has been watching Cosby's sexual-assault trial closely from the benches of the Montgomery County courthouse outside of Philadelphia.
It's a homecoming of sorts for Allred, a native of Philadelphia who splits her time between New York and California. "I'm here for them," she said.
She's referring, of course, to the accusers she represents, the women who have been instrumental in reshaping the public perception of the famous entertainer. Allred and her clients are asking important questions about who the public ultimately thinks Bill Cosby is — the beloved TV dad who visited our living rooms once a week for years as Dr. Heathcliff Huxtable or a lecherous man who's admitted to providing women with Quaaludes under the most questionable of circumstances. If you believe his accusers, Cosby's been assaulting women with the help of drugs for more than four decades. If you side with the defense, he's just a famous person who is being wrongly accused.
Whether Cosby is found guilty of the three felony counts of indecent assault or not will have a bearing on Allred's upcoming civil case later this month in California.
Allred is representing Judy Huth, a woman alleging Cosby raped her when she was just 15 years old. Huth first met the comedian in 1974 when he was filming a movie in Los Angeles, according to a court filing from 2014. She claims Cosby invited her to the Playboy Mansion (knowing she was underage) and sexually assaulted her.
"She alleged that she was a victim of childhood sexual abuse," said Allred. And while there is a statute of limitations in place for adults who suffer sexual abuse, which Allred plans to challenge, the time frame is longer for adults who say they were abused as children. She is confident that the civil case will move forward against Cosby in Santa Monica.
"We have been litigating this case," said Allred, "taking a number of depositions, including Mr. Cosby's statements."
Of all the cases pending against Cosby right now, Allred has thus far been the only one to successfully take the comedian's statement on the record, which has not been made public. In fact, he's expected to be called a second time to talk about that night at the Playboy Mansion. A trial date could be set as soon as the criminal case is decided.
The jury on the criminal case is currently deliberating as both sides await a verdict. The trial, which hinges on evidence that Cosby drugged and raped Constand, a former sports director at Temple University, in his suburban Philadelphia home, is being called by some a classic "he said, she said." During the trial, Cosby's statements were read aloud, though the entertainer never took the stand. It's unclear whether he will take the stand in the civil case.
At the very least, Allred expects Cosby's current trial will compel him to appear back in court in California for a second deposition. "If Mr. Cosby were to be convicted in this case," she said, "and then if he were to testify as a witness in this California civil case, that felony could be introduced, and it would have a bearing on his credibility."
Allred is scheduled to testify in Washington, D.C., on Thursday in opposition to the statute of limitations that prevents rape accusers from filing charges after a certain time frame. She's testified in similar cases in Nevada, Colorado, and California, all states where she's been helpful in successfully overturning the statutes. In an op-ed for the Los Angeles Times, Allred wrote about the need to overturn these laws: "Getting rid of such deadlines sends a message to sexual predators that they should fear criminal consequences for a rape or sexual assault; even if there is no DNA evidence, they still may be prosecuted, convicted and imprisoned."
In states that have gotten rid of the statutes, accusers, including a few of Allred's own clients, have been able to move cases forward, cases that might otherwise have been stalled because of time limitations. Most of the 33 women Allred currently represents against Cosby are unable to bring suits because of this statute. That could change depending on what happens in D.C., though Allred said she doesn't plan on leaving Montgomery County until a verdict is reached. Depending on when that happens, which could be in the next few hours, days, or weeks, Allred will hold a press conference at the courthouse. Several of Cosby's accusers are expected to be standing by her side, whatever the outcome.