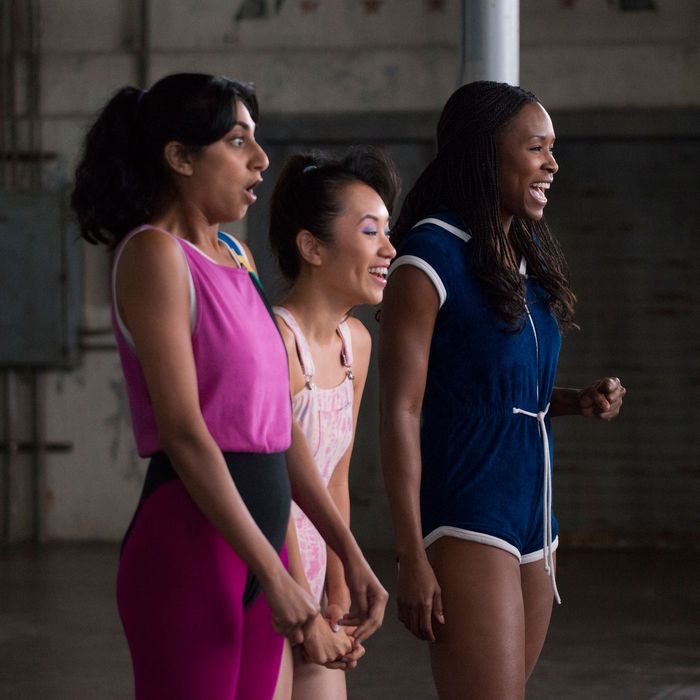 Glow
Debbie Does Something
Photo: Erica Parise/Netflix/Erica Parise/Netflix
There are times when GLOW plays a bit like Richard Linklater's Everybody Wants Some!! All the elements are there: the ragtag athletes rooming together, the good-natured hijinks, the quest to meet their potential as performers and satisfy some carnal fulfillment. Only in this series, the gags about new moms draining their tits, taking painful pees after casual sex with a regional wrestling star (Kevin Kiley Jr., a.k.a. former WWE superstar Alex Riley), an aspiring punk rocker's fear that she'll choke while giving a blow job to a hot pizza-delivery boy.
If nothing else, Linklater's love letter to communal self-discovery and Liz Flahive and Carly Mensch's dramedy share a love of bongs. The former features an aging stoner guru posing as a collegiate pitcher, while this episode of GLOW finds Beavis and Butt-Head–worthy duo Stacey and Dawn ripping hits from a one-footer and prank-calling co-stars about mayonnaise surveys and diagnoses of AIDS in their butts.
The '80s were not a politically correct time, and thankfully, neither is GLOW. (Neither was the original telecast, for that matter.) Sam's challenge, however, is to convince KDTV exec Glen Klitnick and possible sponsor Patio Town's namesake CEO Patrick O'Towne (eh? eh?) that their lady-wrestling program won't offend suburban housewives tuning in on Saturday mornings. O'Towne in particular doesn't see how scantily clad women tangoing in the squared circle translates to merchandise sales. Sam merely points to the sad-sack husbands at his Calabasas store's grand opening, compels Rhonda to flash her wares, and suddenly they're right by his side as he cuts the ribbon.
Rhonda, who we learn is sleeping with Sam (ick), would be just in taking umbrage with this exploitation as a perky, petite marketing prop. And you can tell we're getting closer to her (and Kate Nash's) dramatic showcase. But her frustration is rendered transparent after Ruth steals her thunder at the Patio Town ceremony with some improvised Russian-heel commentary on American consumerism that inexplicably gels with the crowd. Suddenly, Sam only has ears for the homewrecker, who, as far as Rhonda is concerned, is living up to her reputation.
We're still not that much nearer to real insight as to why Ruth did what she did with Mark, or understanding what makes her tick. Sam only allows that she's not a spiteful, petty person like he is, that she's an "okay person." Halfway through season one, the table is set for Ruth and Debbie to blow up as on-camera rivals, with a likely outpouring in the finale about whatever shared and individual history hastened Ruth's act of real-life betrayal. Until that time, we'll have to settle for Liberty Belle versus whatever Ruth and Sam decide to call her evil Soviet archetype. That may not be what Debbie had in mind when she demanded Sam find her a worthy antagonist, but as her aforementioned one-night stand (whose horse was indeed steely, she'll tells Cherry) would interject, "You don't have to be friends to wrestle."
Debbie is the heartbeat of this GLOW chapter, and Betty Gilpin continues to demonstrate why she was so underappreciated on Nurse Jackie. Debbie herself still needs quite a bit of work on her move set, as is painfully obvious during her sad demo for Glen, but after watching Steel Horse and Mr. Monopoly (the great, sexually provocative indie-wrestling stalwart Joey Ryan) stage a mini–soap opera up close, it's all beginning to click. She hadn't been putting in the same time and research as Ruth, but the playing field is about to be leveled.
Apart From All That
• Now we know why Debbie is so tethered to Randy: Her mother, Lorene (the omnipresent character actress Lisa Ann Walter), was working too hard to be around for her.
• Another Mad Men alum, Allan Havey, in the mix as Ron.
• Solid cameo for current Ring of Honor champ Christopher Daniels and his longtime partner Frankie Kazarian.
• Tears for Fears, Scorpions … eh. Still could step it up a notch.
• How does everyone know Melanie's last name is Rosen?
• Sunita Mani is the show's best comic weapon.
• "Porn you can watch with your kids. Finally." Sam's best line yet.
• Yes, married women also think about who else they could sleep with.
• Sharp script by Rachel Shukert.
• I will, again, quote Axl Rose.