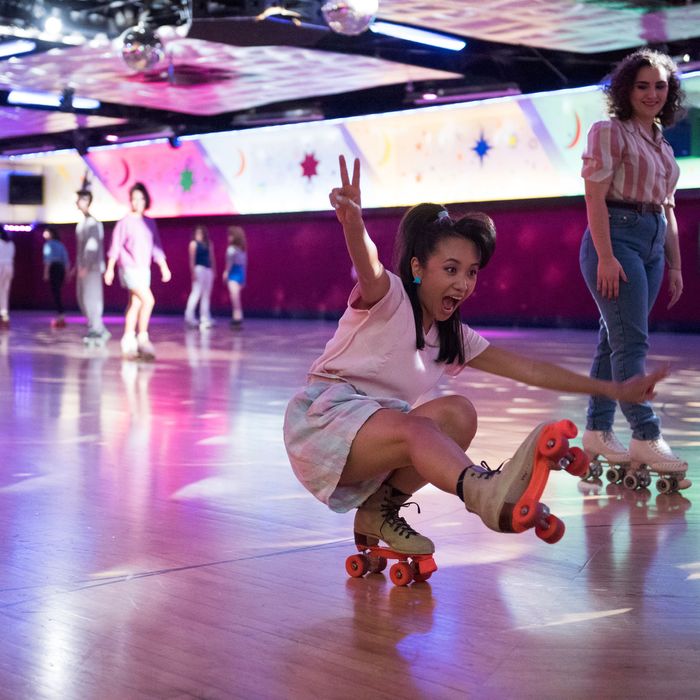 Glow
Maybe It's All the Disco
Photo: Erica Parise/Netflix/Erica Parise/Netflix
The most surprising revelation in "Maybe It's All the Disco" isn't Ruth's pregnancy, or all the sight of all 14 of the GLOW wrestlers syncing up on the same menstrual cycle, but the fact that the episode was written by a man. Then again, GLOW writer Nick Jones has also penned 18 episodes of Orange Is the New Black, so clearly Jenji Kohan deems him suitably sympathetic to a woman's point of view.
Case in point: An early locker-room scene, during which the women playfully exchange feminine hygiene products and fashion some '80s-tastic underwear, is basically the antithesis to Sissy Spacek's horrific shower hazing in Carrie (a third, if tacit, reference to De Palma in this series). Later, when Ruth gets a ride from Sam to Planned Parenthood for her abortion, the episode can't help but bring to mind Jennifer Jason Leigh in Fast Times at Ridgemont High, only it goes past the entrance doors and into the OR, where Fast Times director Amy Heckerling probably wishes her film was allowed to linger.
In between, GLOW magnifies the contrast of its ragtag roster gelling as other forces threaten division. It's Sheila's birthday, and no one is more miserable about it than Sheila. Unfortunately for her, Jenny's family is from Cambodia, where birthdays apparently aren't even acknowledged, so she lives for celebrating the big day for others. That means streamers, balloons, cake topped with a three-digit candle representing her age in wolf years, and a roller-skating extravaganza at the nearby rink. Carmen, meanwhile, is bummed because she knows what Sam and the others have yet to discern: that Bash is broke and off mommy's life support, and all this bonding is premature. Cherry is starting to pick up on something, but it's hard for anyone to concentrate on much besides the minor miracle of Sheila, in full feral attire, cutting it up on the parquet floor.
The ladies' mutual show of support is heartening, and it's a relief that GLOW refuses to indulge petty conflict. Even Sam and Rhonda's breakup turns out to be a commentary on his insecure psyche rather than her expectations as talent "shagging" the director and any attendant melodrama. Plus, the window into their split made possible multiple jokes about period sex and two gratuitous shots of Marc Maron's perfectly average butt, not to mention a glimpse at Rhonda's silken granny panties. Call the whole scene a feat of set design and story sleight of hand.
Sam can sense that Bash is playing cat and mouse, but he doesn't get a whole lot of help from Flor, who's busy sweating out his anxiety over their regularly scheduled breakfast for dinner in Sebastian's sauna. So without hesitation, he goes to scout a possible location for the pilot shoot himself, bringing Ruth along as "someone to disagree with so I can clarify my own instincts." The space itself is wanting, looking more apt for "Aztec porn" as Ruth puts it, not mincing words since suspecting she might be pregnant with Mark's child. Amber, the liaison showing them the room (played by Brooke Hogan, daughter of Hulk and co-impresario of an upstart all-women wrestling promotion), clarifies that it's more reflective of the "Mayan revival movement of the '20s" (which was indeed a thing). In any case, Sam immediately sees the upside and earns a bit of Ruth's admiration, which, much like Rhonda's affection, he immediately mistakes for mocking. If there ever were a man who could benefit from the company of more female friends and mentors, it would be Sam.
Mark also qualifies in that class, though he's already opted for cognitive-behavioral therapy, which, slight nitpick, seems a bit more intensive than the redirection he needs, unless we just don't know enough about him. That's a strong possibility: We still don't have a clue why Debbie ever fell for him, or how he wedged himself in the way of her friendship with Ruth, and "Maybe It's All the Disco" doesn't offer up any real insight. Debbie indulges him in an attempted reconciliation dinner, and even allows for what he describes as a therapeutic hug. From the look on her face, she'd be more comfortable trust-falling off the top turnbuckle into Ruth's backstabbing arms.
Two episodes to go for GLOW's first season, which means it's nearly time for Sam to yell, "Action!" and for the glitter and glam portended in his daydream sequence to come off the page and onto the mat. So long as the production actually gets funded, anyway. If all else fails, everyone can always shack up with Sheila in her junkyard home in the woods.
Apart From All That
• Randy really doesn't want that celery.
• Rhonda, Ruth, Linda, Melanie … such great '80s names.
• Brooke Hogan wasn't half bad.
• No way Mark keeps up this reformed-husband shtick.
• Loved Debbie's comeback about starting her diet at 14.
• Sam: "I'm not paranoid. Who told you that?" Zing.
• Guess Britannica is pretty bright after all.
• Still wishing the music cues were less on the nose.