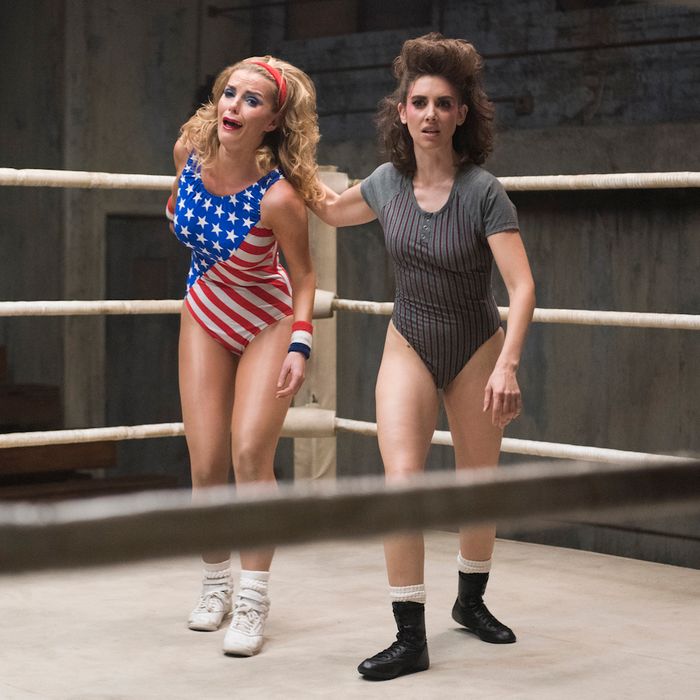 Glow
Money's in the Chase
Betty Gilpin as Debbie, Alison Brie as Ruth.
Photo: Erica Parise/Netflix/Erica Parise/Netflix
It wouldn't have been that exceptional or surprising if Bash/Howard Productions' pilot episode of GLOW culminated with a tag-team match. After all, WWF's inaugural WrestleMania concluded with a two-on-two affair. But in the GLOW season finale, Ruth, Debbie, and Jenny have a bigger work ("work" being wrestling speak for scripted twist) in mind.
Moments after Zoya and Fortune Cookie take out Edna and Ethel (via count-out, apparently?), Ruth's Russian Destroya turns on her communist counterpart and claims GLOW's first-ever championship crown. As the crowd boos and hisses, a homely looking housewife rises from her seat, tears off her matronly garb, and makes a beeline for the ring, conquering Zoya with a flying cross-body. She then humbly announces herself to the crowd as Liberty Belle, a "small-town girl trying to do the right thing."
However, Sam knew the best thing for business (to borrow real-life WWE COO Paul "Triple H" Levesque's favorite phrase) was sending Welfare Queen in to upend the celebration and snatch Liberty's title away, ensuring audiences would stay tuned for her chase to reclaim glory. It is also a clever way for Sam to sneak in his political agenda, as he snaps out of his funk just in time to recognize how GLOW can subvert norms in ways Mothers and Lovers never could.
Good thing he didn't join Sheila and Melanie outside the triplex earlier that night or he might have relapsed into depression at the very sight of lines forming to catch a midnight showing of Back to the Future. (It's unclear why 1978's Dawn of the Dead was also featured, as opposed to its 1985 successor, Day of the Dead.) Just when the car wash seemed degrading, the women literally paid potential moviegoers $10 a head to cross the picket line, as it were, and attend their taping at the Hayworth. At this point, nothing would stand between GLOW's ragtag, cyclically synced, trained-and-ready fighters and prime time (or Saturday mornings, as the case may be), and it's to the credit of showrunners Liz Flahive and Carly Mensch that their efforts felt less imposed on them than empowered by choice.
For Sam, he's got few options when it comes to confronting the situation with Justine. As it happens, he manages to exercise more than one of them by first going on a bender and eventually coming around to console her. This is all fine and well, but it only makes for good TV by taking us inside Billy's neatly appointed suburban home, where Justine had comfortably hid out since spilling the beans. (Unlike Sheila, she isn't one for junkyard woods.) Unimpressed by Billy's decidedly less-than-edgy upbringing, though grateful for his mother's warm welcome and hot coffee, Sam recommends he "relax with the standing and sticking your chest out." Then, he offers his Justine the mea culpa every estranged daughter dreams of: "I'm sorry I tried to fuck you."
Good news is Justine ultimately melts and makes an appearance at the taping. Only downside is she has zero interest in actually wrestling, though we'll see if that changes heading into season two after she witnesses her comrades kick such major ass.
To that end, although the actresses and trainer Chavo Guerrero Jr. should all be commended, it needs to be said that these GLOW ladies look far more polished on opening night than most of the original performers could have hoped to be after years on the air. That's good for GLOW because it's a more visceral experience — as Ruth might say — rather than a clumsy, anticlimactic free-for-all. There are even a few Easter eggs for wrestling marks and smarks alike (those who don't fall into either category need not dwell on the meaning), including Vicki the Viking's Bronco Buster, a direct ode to former D-Generation X stable member Sean "X-Pac" Waltman; a decisive powerbomb courtesy of Machu Picchu; and Beirut's Lebanese Cannonball, a variation of the running senton. It's also a safe bet Welfare Queen stuffing Machu's mouth with food stamps was a send-up of Ted "Million Dollar Man" DiBiase's signature debasement.
What gets lost in translation is the seriousness of bigoted dudes in the front row harassing Arthie. À la the cold open in the previous episode, which hinted at Arthie's discomfort embodying an exploitive persona given the recent TWA hijacking, this whiff of topicality is hurriedly swept aside. The temptation toward timely social commentary is understandable, but it becomes a bit intrusive as it creeps into the episode, particularly as Arthie's conflict and Rhonda's collateral damage aren't further explored.
Should it occur, season two will likely drill deeper into those themes and implications, as executive producer Jenji Kohan continues guiding Flahive and Mensch toward the tonal high-wire that is her mode. We'll also find out whether Debbie dumped Mark and/or if he simply couldn't handle her powerful alter ego. After all, he continues to demean it as "silly," no different than he did when undermining her work on Paradise Cove. How that plays out will directly affect Debbie and Ruth's friendship, which isn't quite in the cozy place of after-show drinks, even if they can now hold conversations with less awkward trailing off.
All in all, both GLOW and GLOW are tenuously qualified successes so far. These ten episodes have offered a sampler platter of sorts, illustrating the show's aim of authenticity as period comedy, modern character study, and respectful wrestling adaptation. Now the real work begins.
Apart From All That
• Love Sheila's luggage-cart cage.
• Fun choice to show us Ruth and Debbie's match through the camera's gauzy POV.
• Yeah, Cherry, this is no time to get sentimental. Chambers and Reynolds is a no-brainer.
• Just me, or did the ring entrances evoke the runway sequence in Don't Tell Mom the Babysitter's Dead?
• Mark sucks.
• Bash really got his David McLane on.
• Not for nothing, but Ruth's really gotta keep her kayfabe face on till she's backstage.
• Where's Gregory?