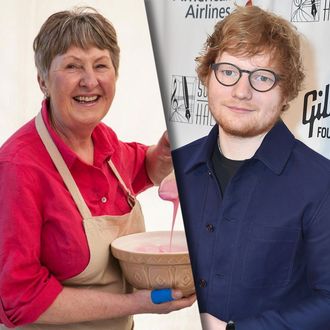 Val and Ed Sheeran.
Photo: BBC ONE/Getty Images
If there's anything more sweet and pure than what transpires during the filming of The Great British Bake Off (or Great British Baking Show, as it's called in the U.S.), it's what the contestants get up to off camera. For instance, Somerset pensioner Val Stones, who appeared on the latest season of GBBO — which is now airing on PBS so we won't spoil anything — likes to tweet at Ed Sheeran.
Here, for instance, is Val telling Ed how much she likes his lyrics, which remind her of her first love and breakup.
Here's Ed thanking Val for her nice words.
Here she is telling Ed she is doing her very own technical challenge.
And here's Val showing Ed the finished product.
Also, she once offered him some sausage rolls.
In fact, it might just be easier for you to scroll through all the times Val has tweeted at or about Ed Sheeran on your own time. Like baking a pastry, it will take up your whole morning and make you feel warm and happy inside.
In the best update to this story, Val's friend recently met Ed Sheeran in the flesh, and got him to record a video message for her. "Hey Val, I love you. I think you're wonderful," he says. "Yeah, let's cook sometime."
We'll believe that Ed has really followed through on his promise once he gets a tattoo to commemorate that occasion.