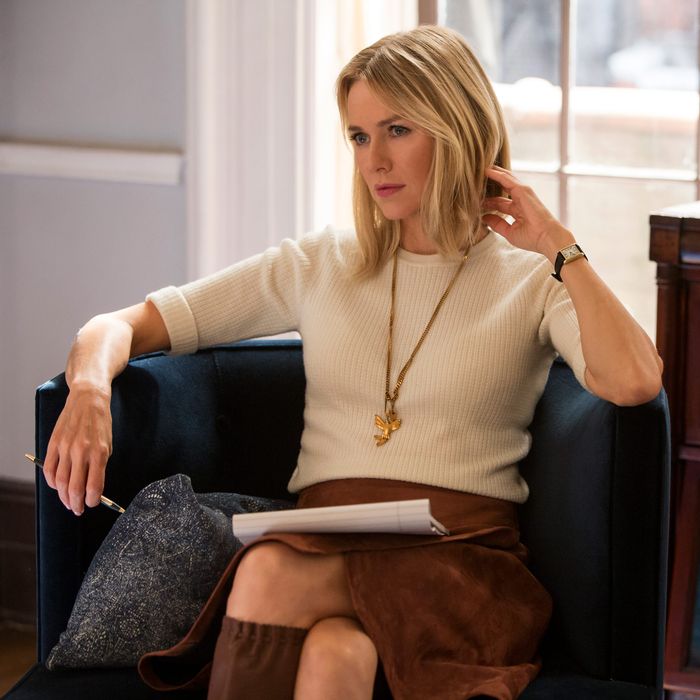 Naomi Watts in
Gypsy.
Photo: Alison Cohen Rosa/Netflix
Twin Peaks aside, this has not been a great month for Naomi Watts projects.
First she starred in The Book of Henry, a film blasted by many critics and described by our Emily Yoshida as "so poorly conceived from the ground up as to slip out of the grasp of the usual standards one applies to narrative film." Now she's the lead in Gypsy, a drowsily paced new Netflix series that casts her as Jean, a sociopathic therapist who stealthily creeps into the lives of the patients she's supposed to be helping. It's like In Treatment with more weird, stalker-y behavior, except when it's delving into Jean's conflicts with fellow moms in her chichi Connecticut suburb. Then it's like a far inferior version of Big Little Lies.
None of what's wrong with Gypsy, which begins streaming Friday, is Watts's fault. She digs into Jean and her various deceptions with an authentic mix of headiness, guilt, and fear that makes you invest in the character more than the excessively meandering narrative, created and co-scripted by TV newcomer Lisa Rubin, should allow.
In the first of the season's ten episodes — I reviewed six in advance — Jean writes, then circles the word "Boundaries" in her notepad during a session with Claire (Brenda Vaccaro), a helicopter mom obsessing over her estrangement from her daughter. The comment may refer to Claire's inability to rein in her worry, but you don't need a master's degree in dual meanings to grasp that Jean has some major problems with boundaries herself.
Happily married (Billy Crudup plays Michael, her handsome lawyer-husband) with a daughter, a nice home, and a New York City office yanked straight out of a Z Gallerie catalogue, Jean ticks most of the boxes on the "she has it all" checklist. She does have some issues, though, including a strained relationship with her mother (Blythe Danner), difficulty coming to terms with her non-gender-conforming daughter, and a low-simmering jealousy of the relationship between Michael and his assistant. To cope, Jean does what Gypsy the series does: spend minimal time genuinely exploring these matters in order to channel energy into unethically infiltrating the social and family circles of her patients.
The most egregious and increasingly hard-to-believe step Jean takes is pursuing a relationship with Sidney (Sophie Cookson of Kingsman: The Secret Service), a free-spirited barista and aspiring musician who happens to be the ex-girlfriend of Sam (Karl Glusman), a patient of Jean's who sees her largely to work out his lingering difficulties with the breakup. During an initial encounter at the coffee shop where Sidney works, Jean adopts her new alter ego, a woman named Diane who's a freelance writer of political op-eds. Even when its protagonist is concocting a fantasy, Gypsy tends to lack imagination.
Despite billing itself as a psychological thriller, the series has very little urgency and lacks concise focus. Should we be concerned that Jean will get caught by one of her colleagues, or her patients, or her husband? The answer is technically all three, I suppose, but Gypsy takes its time to such a degree that the threat of exposure is muted.
Visually, Gypsy has a glossy, pleasing allure, which is not surprising considering that its directors include Sam Taylor-Johnson of Fifty Shades of Grey fame and TV veteran Scott Winant. It also boasts a sparer version of the Fleetwood Mac song "Gypsy," arranged and performed by Stevie Nicks, as its theme song. The track is both lovely and haunting, but, like the show it introduces, a little too on-the-nose.
Every once in a while, though, Gypsy hints at what it might have been. The sixth episode, for example, opens with a sequence in which Jean and Michael attempt to spark some marital flames at a hotel bar by pretending to be two people who have just met. It's a fun little seductive game, one that works on a different level for Jean, who's made a second career of playing pretend.
"I always wanted to meet an architect," Jean tells her husband after he claims that's what he does for a living. (Unlike Jean, Michael obviously attended the Art Vandelay School for Making Up Bullshit Careers in TV Shows.)
"Now you have," he smiles, all knowing charm. "What does it feel like?" Crudup and Watts have great chemistry in this scene, one of the few in the series that has some real electricity coursing through it. The sequence suggests that, with better writing, tighter episodes, and less self-seriousness, Gypsy might have worked as the TV equivalent of one of those psychosexual movies for grown-ups that Hollywood rarely makes anymore. (Think Fatal Attraction or Indecent Proposal.)
Instead, Gypsy plods forward, adding one more unprofessional and inappropriate act onto another until you're pretty sure that at some point, Jean's Jenga tower of duplicity  is going to collapse. The problem is that when it does, you'll have already gotten too bored to care.