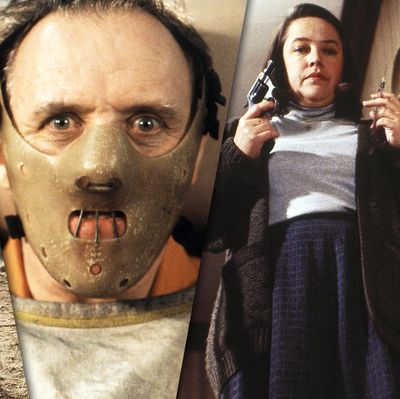 Walter White, Hannibal Lecter, Annie Wilkes.
Photo: AMC, Universal Pictures and Columbia Pictures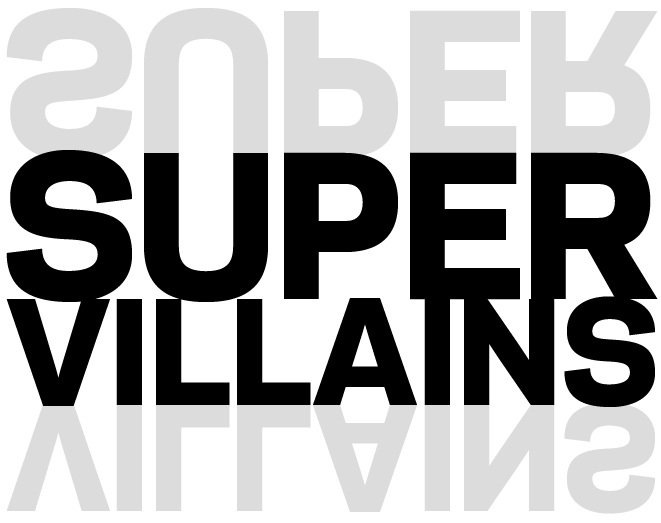 In an age of superhero movies and TV anti-heroes, fictional villains are more complex than ever before. This week, Vulture examines villainous entertainment in all its forms.
Who is the greatest villain of all time? It's a tricky question, given the number of truly excellent baddies in movies and television alone, so Vulture canvassed Hollywood to ask actors and showrunners to choose their favorites. The answers vary from soap-opera villains and cable TV anti-heroes to Oscar-winning characters and pop-culture icons. Enjoy!
Linda Gray, actress on Dallas and Hand of God
J.R. Ewing is my favorite villain and I'll tell you why: He was that villain we all loved to hate. Larry [Hagman] did everything that J.R. did with that little grin that made him more charming and adorable. It made you think, "Why am I liking this guy?" He was a charmer. Most villains are not very charming, but J.R. was an entity all to himself. We did 357 episodes together and there were so many things J.R. did, and Larry reveled in them. He loved when he had Sue Ellen committed in the sanitarium because she was an "unfit mother." I asked him once, "What do you mean you loved it?" He said, "I just loved it when they took you away and threw you in the sanitarium and you were pregnant!" And he would laugh that terrible J.R. laugh. That was villainous to me! That was bad! The more villainous they wrote him, the more he loved it. And the more we all loved him.
Jeff Probst, host of Survivor
Is there anybody more complex and fascinating right now than Elliot Alderson in Mr. Robot? Is he a hero fighting his dark side or a villain trying to find his own humanity? Or is it just because I see parts of myself in him? Either way, he is my favorite villain. I am patiently waiting for the next season!
Britney Young, actress on GLOW
What does it take to be a true villain? How about ambition, intelligence, a solid plan to overthrow the sultan, eyebrows that are on point, and a loudmouth parrot? Who embodies all these personality quirks, you might ask? Why, it's the best villain of all time, Jafar from Disney's Aladdin! On the surface, Jafar may seem like some creepy dude who lures orphaned children into dark caves with the promise of freedom and bread, but beneath his smoky eyes and dry humor, he really is just a driven politician who wants to better his community. Even as he was faced with dream-crushing obstacles — the Cave of Wonders rejecting him, and Aladdin being the thief he truly is by keeping the lamp — Jafar continued to persist and go after his goal of becoming sultan. By movie's end, he accomplished one of the rarest feats of any villain: He achieved his goal and, as an added bonus, became an all-powerful genie! Sure, he was trapped in a lamp for eternity, but check the tapes. He did in fact become the Sultan of Agrabah.
Dominic Cooper, actor on Preacher
I remember being quite disturbed by the Jaws character in The Spy Who Loved Me and Moonraker, and the wonderful Grace Jones in View to a Kill. They were certainly villains being very villainous.
Dawn-Lyen Gardner, actress on Queen Sugar
There was something so delicious about Eartha Kitt as Catwoman. I remember watching reruns as a kid and just waiting for her to be onscreen. She was that perfect combination of mesmerizing, mysterious, and totally playful. And that voice? C'mon. HYPNOTIC.
I'm showing my nerd card here, but also the Borg from Star Trek. I've always felt that the Borg were an ultimate enemy because of how robotic and imperial and unwavering they were. It was so automatic and unfeeling, that stripping of humanity and the loss of one's identity without consent. That immobile face. That coldness. I was always terrified and totally fascinated. I kept thinking, "Oh no!" whenever they came onscreen.
And because I think he's phenomenal: Andrew Scott as Moriarty in Sherlock. That dude is redefining how awesome a villain can be. I mean, the show kept the guy in play long after he's even alive and I totally get why. He is murdering it, literally!
Angela Lewis, actress on Snowfall
My favorite villain is Ursula from The Little Mermaid. She is absolutely, positively and deliciously evil! I love her! She's so clear in her intentions. Her perspective on life is fair, accurate, and understandably bitter. She's fabulous in spite of her limited resources. She's unafraid of her bodacious curves, her manicure is on fleek, and her haircut is classically badass. I love her lounge singer voice and the way she effortlessly takes us on a roller-coaster ride of humanity. "Poor Unfortunate Souls" has always stuck with me. Sometimes it randomly pops in my head and I'm singing it for hours!
Ruth Negga, actress on Preacher
Alan Rickman as the Sheriff of Nottingham in Robin Hood: Prince of Thieves. Only very good actors can keep that stuff from being truly terrible and hammy.
Julie Chen, co-host of The Talk and host of Big Brother
Rachel Reilly came in ninth place in season 12 of Big Brother, but went on to win the whole thing in season 13. Her first time in the house, she was known as loud and brash, annoying all except Brendon — who she met in the house and eventually married. When she was thrown back in the house to stir up sh*t for an afternoon, she did not disappoint. She came back the next season with a huge target on her back, and yet went on to win the whole game. Her tenacity and fearless in-your-face nature got her to the finish line, and I was personally cheering for her when it was over. She really turned the ship around and won my respect.
Jeffrey Bowyer-Chapman, actor on UnReal
I was 8 years old when my father took my older sister and I to a midnight screening of Batman Returns. I remember beginning to drift off to sleep in my comfy theater chair when Michelle Pfeiffer as Selina Kyle appeared onscreen. I was suddenly and entirely awake and captivated. Even through her mousy, demure manner I was drawn to the electricity in her eyes. Always a champion of the underdog, I suppose I saw a part of myself in her. And then the twist: Selina is pushed out the window of a skyscraper to her death and revived by a gang of alley cats, only the Selina that comes back isn't the shy little secretary any longer. "I am Catwoman, hear me roar!" I had never witnessed anything like her. The way she combined a fierce seductive energy with vicious physical prowess and a sly irreverent humor left me immediately intoxicated. She embodied everything I never knew existed and had only ever dreamed was possible. It was the first character that inspired me to become an actor, and remains to this day the angel of my nightmares and the devil of my dreams.
Molly Bernard, actress on Younger and Transparent
Severus Snape is perfect and complicated and Alan Rickman brings him to life gorgeously in the Harry Potter films. He is a true villain until the very end, when the last moments of the series reveal that evil and conniving Snape is capable of love — deep, long-lasting love and devotion. I love this villain because he turns out to be a hero. I was shocked when I read the books, and Rickman's performance is nuanced, hilarious, and haunting. He makes Snape … well, Snape. I have had several sexy dreams about Snape/Rickman and am pleased to say I've basically catalogued them as memories, very happy ones. Oops, gotta go, thinking about Snape again.
Noah Schnapp, actor on Stranger Things
I am a huge fan of The Hunger Games films and, for me, President Snow is the best villain ever. I remember watching the movie for the first time and hearing him say, "Panem today, Panem tomorrow, Panem forever!" You just know that these characters are doomed to die no matter what. Donald Sutherland makes Snow so threatening and creepy without having to raise his voice. He does it with his cold eyes and he still feels totally ruthless.
Liz Tigelaar, showrunner of Casual
My favorite villain is Nellie Oleson of Little House on the Prairie, played by Alison Arngrim. Why? First, she's based on a real person. (If you want to get technical about it, she's a composite of three girls from Laura Ingalls Wilder's childhood, but same difference.) Second, her curls were epic. Third, she's legit pure evil. Whether it was pretending she was paralyzed after falling off Laura's horse so that Laura would do her homework for her, or making fun of Olga's limp before Pa made her that special shoe so she could pay softball with the other girls, Nellie was always causing trouble on the prairie. (Side note: Olga with the special shoe was played by The Real Housewives of Beverly Hills' Kim Richards.) Nellie had epic mud fights with Laura, tried to steal her man Almanzo, and almost got Laura killed in river rapids when Laura was JUST TRYING TO HELP HER FIND LEAVES FOR HER SCHOOL PROJECT. (Laura got even when the leaves she gave Nellie were poison ivy.) When they redeemed the character by having her (1) marry a short man, (2) who was named Percival, they had to then cast a WHOLE NEW NELLIE to continue the evil. Cut to the jump-the-shark moment when orphan Nancy Oleson appeared.
Hudson Yang, actor on Fresh Off the Boat
My favorite villain right now is Baron Quinn from AMC's Into the Badlands. I just saw the finale — so, spoiler, I guess I have to pick a new favorite now — but I really loved his quiet darkness, the way he could change the mood of a scene just by walking through the door. He'd smile and people would begin to sweat. He'd whisper and it would be scarier than other people screaming. I liked how he started at the bottom as an assassin and fought all the way to the top, and how he was willing to do anything to keep power — even kill his own son in cold blood. But I also liked how even though he was a monster, he was human. He was haunted by the stuff he'd done, literally: He had hallucinations of his dead son talking to him. I'm going to miss him next season.
Graham McTavish, actor on Preacher
I did a lot of Shakespeare when I was doing theater, so it'd have to be Iago from Othello because he's clever-witted. Now there's a villain!
Yara Martinez, actress on The Tick, I Love Dick and Jane the Virgin
My mom took me to see my first horror film when I was 6 years old. It might've been a Disney movie, but Return to Oz is a genuinely terrifying and dark film featuring one of my favorite villainesses of all time: the headless and head-collecting Princess Mombi. The movie begins with a depressed Dorothy who can't shake the images of Oz out of her mind. Auntie Em and Uncle Henry don't believe Dorothy's stories and take her to a therapist, who sends her to a mental hospital for electroshock therapy. It's in this hospital where we meet Head Nurse Wilson, played by Jean Marsh, the same actress who plays Princess Mombi in the now-ruined Emerald City. When the youth-obsessed Mombi meets Dorothy, she's enamored and locks her up in a tower so she can claim Dorothy's head as her own. In one of the most memorable and alarming sequences, Dorothy has to sneak through a closet of 30 sleeping heads in order to get the Powder of Life, which would give her the power to escape. Right as she's about to grab the powder, Nurse Wilson's head opens its eyes, bites Dorothy's hand, and awakes Mombi. What follows is one of the most phantasmagorical scenes ever. The image of Dorothy being chased by a headless body while 30 heads in glass cases chant her name — "DOROTHY GAAAAAALE!" — is seared into my brain. Jean Marsh's terrifically terrifying incarnation of Mombi will forever hold a special place in my nightmares. Thanks, Mom!
Carla Jimenez, actress on The Mick
"I'm your No. 1 fan" has been one of the scariest things a celebrity can hear ever since it was uttered by Annie Wilkes from Misery. What makes Annie so villainous is her lack of empathy and her psychopathic behavior. She's a "superfan" who takes fandom to its deepest, darkest place when she has the rare opportunity to meet her favorite author, Paul Sheldon, played by James Caan. Annie's rage when she finds out he "killed off" her favorite romance character makes her truly unpredictable and scary. I've been a Stephen King fan for as long as I can remember. My father would buy me all his books, even the ones he wrote under a pseudonym. Misery was one of my favorites and I love the character of Annie Wilkes. Seeing her played so perfectly onscreen gave me chills because sometimes the people who seem the sanest are the most villainous.
Ian Kahn, actor on Turn
It's the depth of stillness and intelligence in Sir Anthony Hopkins's performance that makes Hannibal Lecter, to me, the greatest villain in the history of movies. In his famous scene with Clarice, he is a shark with his eyes directly on his prey. He smells the blood in the water and surgically attacks. There is no movement except the swinging back and forth of his chair. He ends the scene by thanking her for bringing him back to his position as the wise doctor. Forget the cannibalism. It's the manipulation and danger underneath that makes this an Oscar-winning performance. Best actor. Best performance. Best villain.
Timon Kyle Durrett, actor on Queen Sugar
One of my favorites is Anakin Skywalker from Star Wars. Talk about a head case! Once one of the most powerful Jedi in the galaxy, he became one of the most feared Sith Lords of all time. The way I see it, he was corrupted and tricked by those who had mastered the power of persuasion. Frustrated by being stifled, confused between good and bad, Anakin became so engulfed in his own anger that he accidentally killed his wife. But that's not why I like him, of course. I like him because he recognized his powers early on and wanted to explore them, yet by way of the Jedi order, he was disallowed. Makes me think back to how I felt at times as a child, being told that I couldn't do something that I knew I was meant to do. Anakin Skywalker is an artistic reminder to recognize and embrace my power and not allow the opinions of others to hold me back. Thanks, Anakin.
Niko Pepaj, actor on Daytime Divas and How to Get Away With Murder
My favorite villain can also at times be seen as a hero. There were times when I really connected with Walter White, but other times, you could see Walter giving in to the demons around him and it was heartbreaking to watch him fall. That character arc was phenomenal: He started off as a suburban father and then ended up a monster. To see Bryan Cranston bring his heart into every scene really inspired me. To see him consistently deliver a perfect performance every episode was unreal. Walter White's sacrifice for his family was also very relatable. My father sacrificed everything for our family. He did everything he could to provide a better life for us.
Sallie Patrick, showrunner of the CW's Dynasty
Simply put, Alexis Carrington was prime-time television's first bitch. She looked sharp, sounded sharper, and never pulled a punch. While she didn't appear until the second season, there's no doubt that Alexis and the impeccable Joan Collins were the reason Dynasty lasted nine years. She was bold, never hesitating to speak her mind, and the shade she threw was epic. She was intelligent, a CEO who played the stock market as easily as she played men. She was sympathetic, always motivated by love for her children (not unlike Mildred Pierce, another shoulder-padded mother). But what made Alexis such a love-to-hate villain was that, beneath her diamonds and furs, her rage was palpable. Whenever she erupted, it must have been cathartic for a female audience, who, at the time, rarely saw a woman releasing her pent-up aggression on television. And in a lily pond, no less.
Ana De La Reguera, actress on Everything, Everything and From Dusk Till Dawn
I can't think of anything more disturbing than having a villain as a mother. The person who you are supposed to trust and love is the one who you are terrified of. It is really difficult to choose between Marisa Paredes in High Heels from Pedro Almodóvar, Joan Crawford in Mommie Dearest, Mo'nique in Precious, or Ingrid Bergman in Autumn Sonata, to name a few. Recently, I watched April's Daughter, a movie from Mexican director Michel Franco, who went back to my country as a winner in Cannes in Un Certain Regard section this year. April, played by Emma Suárez, is an enthusiastic woman but feels the pressure of staying young and attractive. She visits her two daughters in Puerto Vallarta and finds out the youngest is pregnant. There are moments when, with one subtle comment, she is able to destroy her older daughter's confidence. That scares the hell out of me. There are many times that we have lived or seen that situation and we can't do anything about it, but the hurt it causes can last forever.